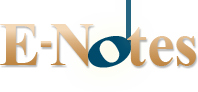 This Month
Sessions from National Seminar 2020 Available in Virtual Bell Academy
Deadline Approaching for National Seminar 2021 Pre-Registration
NS 2021 Call For Faculty and Performers Deadline is Oct. 1
---
Limited Supply of HMA Facemasks Available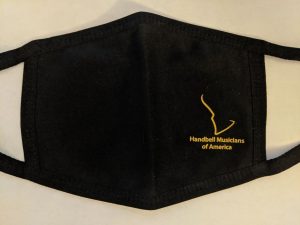 As you return to ringing, outfit your ensemble in style with these two-layer cotton masks with filter pocket (filter not included). Black, over-ear elastic mask with screen printed handbell design and text Hanbell Musicians of America in gold. Price includes shipping.
---
Help Support HMA Through Amazon Smile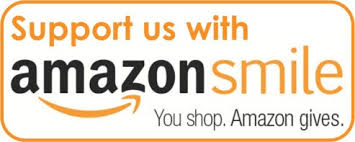 With more people shopping on Amazon right now, you can help support HMA just by shopping. Go to smile.Amazon.com, list American Guild of English Handbell Ringers as your organization, and Amazon will donate .5% of eligible purchases.
---
National Events
GO HERE to find out more about all our national events.
Subscribe to our YouTube Channel to receive notifications about new videos and live streams.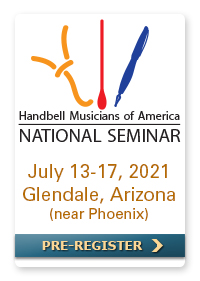 ---
Become a Sustaining Partner
Upgrade your membership to SUSTAINING PARTNER and play an important role in ensuring the future of Handbell Musicians of America. As a SUSTAINING PARTNER
You are CONNECTED to the handbell community
You are IN PARTNERSHIP with other handbell musicians
You are NURTURED through education and resources
---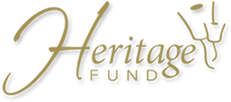 Help build a pension for the Guild, by contributing to the HERITAGE FUND
---
Announcements
HANDBELL MUSICIANS OF AMERICA MAILING ADDRESSES
Please note that any PAYMENTS sent to the Guild should now go to the following address:
Handbell Musicians of America PO Box 221047 Louisville, KY 40252
This includes membership renewal, contributions, event registration payments, invoice payments, etc.
All GENERAL CORRESPONDENCE that DOES NOT include a check payment should should be sent to:
Handbell Musicians of America 201 E. Fifth Street Suite 1900-1025 Cincinnati, OH 45202
Sessions from National Seminar 2020 Available in Virtual Bell Academy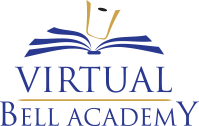 We are excited to announce that some of the favorite sessions from the online National Seminar 2020 are now available in the Virtual Bell Academy. We've selected the classes that will be most beneficial to handbell musicians as they navigate ringing in these days of COVID. They include Keeping up Handbell Skills, Bells not Necessary, First Look: How to Introduce New Music, Assembling an Ensemble Virtually, and Sing-a-long with Henry, with more to come.
Members receive a $10 discount on all VBA archive videos, and National Seminar 2020 Registrants receive an additional discount on videos from National Seminar 2020 Online.
Distinctly Bronze East Update
While plans are still underway for a Distinctly Bronze East event in February of 2021, we are in the process of developing alternative plans should the COVID-19 pandemic continue in its present course. The first week of November, the DB Planning Team will meet to determine if DB East can go forward in February as planned or be postponed until 2022. These decisions will be made entirely on the safety and well being of our members. We appreciate your patience in these uncertain days, and we will keep you informed about how and if we can move forward with events. Fred Gramman, who was supposed to be conducting this event, has been rescheduled to 2022 because of the uncertainty of international travel at this time.
The following articles contain pre-registration information as well as the call for faculty and performers for National Seminar 2021 in Phoenix, Arizona. We are optimistic for an in-person event, but we are prepared to be flexible with the event, and submissions/registrations can be adapted to an online or hybrid event format should that become necessary.
Deadline Approaching for National Seminar 2021 Pre-Registration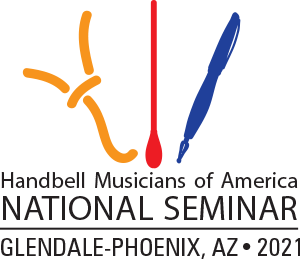 Join us at the Renaissance Phoenix Glendale Hotel and Spa in Glendale, Arizona (near Phoenix), for National Seminar 2021. Event dates are Tuesday, July 13 through Saturday, July 17. Pre-register by October 1 and freeze registration fee at $350. Also, those who opt for pre-registration will have the chance to register for the full event classes and tracks before everyone else. Full event registration will be available February 15, 2021.
Pre-registration requires a $125 deposit, which will be applied to your final registration. All but $25 is refundable if cancelled before March 15, 2021, and before you complete full event registration. If you cancel after completing full registration, the full event cancellation policy will apply. Pre-registrants must complete full registration by May 1, 2021, to receive the discounted rate. Registration completed after May 1 will be charged the non-discounted registration fee. The deposit will apply to full registration, whether the format is in-person or online.
National Seminar Call for Faculty & Performers – Deadline for Submissions is October 1.
National Seminar 2021 will be Tuesday, July 13 through Saturday, July 17, at the Renaissance Phoenix Glendale Hotel and Spa, in Glendale, Arizona (near Phoenix). Several performance opportunities are offered throughout the event. We are also seeking submissions for classes and faculty to present at the event.
Concerts
Apply to be considered for one of the following options:
Feature Concerts: There will be one feature concert each date of the event. This concert will feature one performing group or ensemble for a one-hour concert.
Mini Concerts: One to two Mini Concerts will be scheduled each day. Performers will present 30-40 minutes of music.
Application Submission Process & Timeline:
Completed applications are due by 5:00 PM EDT on October 1, 2020.
Performers must have a current membership in Handbell Musicians of America.
Applications MUST be completed using the form below.
Applications sent in any other format will NOT be accepted.
Each application must include a link to a recently-recorded (within the past 2 years) video of the performer.
All video submissions must include a minimum of two selections of contrasting style.
Include live introduction of each piece on the video as it would be presented in concert.
AFTER submitting your application, please send a current photo of the performer in jpeg format and with a minimum resolution of 300 dpi to [email protected]
Applications will be reviewed by the selection committee in October, and those selected will be notified in November. Selected performers may not share their selection for the event until it is officially announced by Handbell Musicians of America.
We encourage innovation and new ideas. If you plan to include a new concept, performance technique or feature in your event, please include a representation of this in your video submission. Also, please ensure your performance has been fully tested and vetted prior to your concert at National Seminar.
Any questions about the application, video requirements, or selection process should be directed to [email protected]
Performer Details & Application
Faculty/Classes
Application Process & Requirements
Those submitting must have their own individual Handbell Musician Membership or be the primary contact for an organization's Handbell Musician Membership.
Consider all aspects of handbell musicianship in all settings as you develop your class ideas. The committee strives to select a wide variety of classes for all constituencies of our membership. We also encourage innovation and new ideas. However, please make sure any new concepts are fully tested and vetted prior to presentation at National Seminar.
Those submitting more than one class topic will be given priority consideration.
Those interested in teaching at the event must submit a separate Class Submission Application for each class topic/idea they would like to present using the form below. ONLY submissions completed using the form below will be accepted.
Any applicant who has not taught at a National Seminar in the past three years (since Grand Rapids 2018) must provide two letters of reference from individuals who have observed the applicant teaching within the past two years. These letters must be sent directly to [email protected] by the person providing the reference. The applicant is responsible for ensuring that the required recommendations are received.
Deadline for submission is 5:00 PM EDT, October 1, 2020. Applications will be reviewed by the selection committee in October, and those selected will be notified in November. Selected faculty may not share their selection for the event until it is officially announced by Handbell Musicians of America.
Class sessions at National Seminar are 75-minutes long. Topics may be offered as single classes or multi-session courses. Single-session classes will usually be offered twice in the schedule during the event. Multi-session courses will only be offered once in the schedule.
Questions regarding the process should be directed to [email protected]
Video of the Month
Our selection this month is a favorite of many musicians, "Flight of the Bumblebee," as performed by Forté Handbell Quartet. You can visit their Facebook page HERE.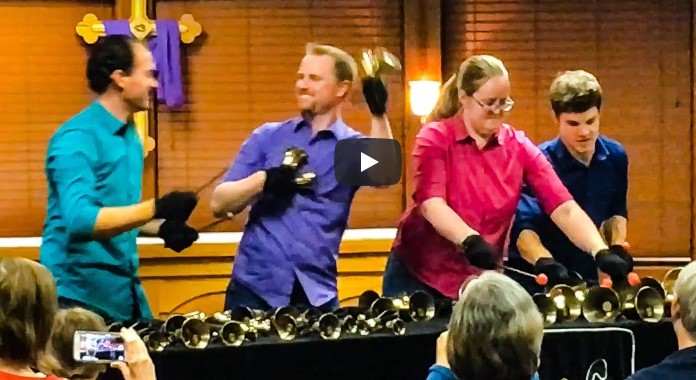 Brian's Music Notes
with Brian Childers
"Triumphal Entry" by Michael Bedford
3 Octaves AG3038
4-6 Octaves AG46026E
Level 2
Originally Released Spring 2011
Liturgical Season: Palm Sunday/Holy Week

Usage
Need a great selection for Palm Sunday that can be learned and mastered quickly? You will want to take a look at Michael Bedford's "Triumphal Entry." This is a fantastic way to open your Palm Sunday celebration! You can hear a recording, preview the music and order it for your bell choir from Lorenz: Order "Triumphal Entry" here

Overview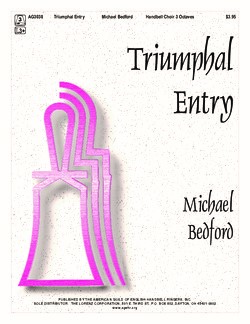 This original composition moves from the downbeat to the closing chord! This 55 measure piece set in D major goes by quickly! Utilizing scale passages, repetition, and imitation, "Triumphal Entry" will help set the stage for a festive Palm Sunday service or open any concert with flair.
NOTES from Michael
I was in need of a Palm Sunday piece for my middle school bell choir at Broadmoor Community Church in Colorado Springs back in the 1980s, and as they say, necessity is the mother of invention. I wanted a simple ABA form so that the piece would be easy to learn. I also wanted activity to be spread out as equally as possible among all the ringers.
Suggestions for conductors:
Having the ringers clap the rhythms in the first four bars will make the syncopated spots easier to feel when ringing.
YouTube Recording:
Triumphal Entry Michael Bedford.
Michael's background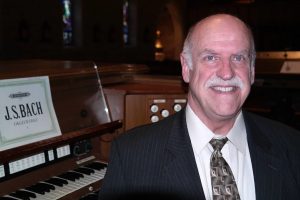 How were you first introduced to bells?
While a student at Texas Christian University in Fort Worth, Texas, I was on the staff at University Christian Church. The organist, Betty Boles, formed a handbell program from the ground up, and I was able to see how it was done.
What brought you to composing for bells?
I was drawn to composing for bells when I had my first full-time church job and organized my own handbell program. I had three choirs of varying ages and abilities.
What was your first published composition?
My first published piece of any kind was "A Modal Air" for 2-octave bells, written in the mid 1970s and published by Choristers Guild.
Any thoughts for others to know about your compositional process
My initial approach to composing is somewhat old-fashioned. I still love to sit down with pencil and staff paper and write away from the piano. Usually I can hear the music in my head. Once I have it down on paper, I take it to the piano to be sure I have heard everything correctly. Then I input it into the computer with my composer program, Dorico. I love to compose at a coffee shop or a bookstore, anyplace where good coffee is available! I have no set routine, and any time of day will work if I am free. Since I retired five years ago, there are more and more opportunities to write music, and thank God, the commissions still come in!
What do you love most about composing?
The ability to try to create something beautiful that you can eventually hear performed is gratifying. And I find the whole process therapeutic. It is totally different from playing, rehearsing and conducting.
Personal Information about Michael
Family: Married Marilyn Holmgren Bedford January 19, 1974. Two grown children: Allyson Ruth Bedford, 35, of Birmingham, AL; and Phillip Michael Bedford, 28, of Austin, TX
What does your family think of your composing?
They have always been totally supportive, and seem to take pride in hearing my music performed. If not, they are putting up a very good front!
At 70 years old, I still spend time three days a week in the gym, working out with weights and swimming. I also write mystery novels on the side, and will soon be self-publishing my first book, The C Major Murders, set in a small-town east Texas college music department. I have published a couple of short stories, so I think I can call myself an author.
My mother played the piano in church, and my father sang in the choir. My daughter studied the piano, and my son studied the trumpet. Both play the guitar, and they sang in my choral program growing up. So music is an all-in-the-family venture.
I am a devout neatnik, and extremely detail oriented. I like everything in its place, done just a certain way, and I detest clutter! There is a word that describes this, but I'm not sure we should print it!
Until next month,
Brian Childers
Music Adviser