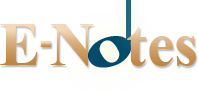 This Month
MemberChat with Rob Meyer-Kukan from the Healthy Musicians Institute
National Events
GO HERE
to find out more about
all our national events.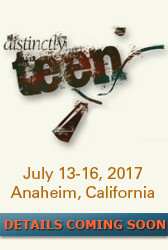 ---
Please consider helping defray the Guild's
day-to-day expenses
by making a
contribution to
THE GENERAL FUND 
---
Featured
Resource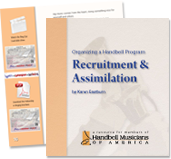 Part of a three-part series of resources by Karen Eastburn on Organizing a Handbell Program. Also available, Mission Aspects of a Handbell Program, and Retention of Ringers.
Handbell Musician Resources>>
If you've not yet seen our first ever Virtual Handbell Ensemble, have a look HERE. Help us get as much exposure as possible by commenting and sharing.
Help build a pension for the Guild, by contributing to the HERITAGE FUND
Announcements
HANDBELL MUSICIANS OF AMERICA MAILING ADDRESSES
Please note that any PAYMENTS sent to the Guild should now go to the following address:
Handbell Musicians of America
PO Box 221047 Louisville, KY 40252
This includes membership renewal, contributions, event registration payments, invoice payments, etc.
All GENERAL CORRESPONDENCE that DOES NOT include a check payment should should be sent to:
Handbell Musicians of America
201 E. Fifth Street
Suite 1900-1025
Cincinnati, OH 45202
The Big Ring is Here

700 handbell musicians will gather at the Mall of America this Saturday (November 19) to break the Guinness World Record for Largest Handbell Ensemble.  The previous record is 530 musicians and was set in Japan in 2013.
The event is the kick-off for the Salvation Army's annual Red Kettle campaign.  Handbell Musicians of America has partnered with the Salvation Army and Mall of America to coordinate the musician participation.
Follow our Facebook page and Twitter feed Saturday morning for updates and for links to see a live stream of the event in action.
College Ring-In Returns
Join us January 2017 for our College Ring-In, an event for college students and recent alumni.
Three days of ringing under the direction of Michael Joy culminates in a public concert on the final evening.
Participants will be given their own individual ringing assignment to prepare in advance and then join other attendees to rehearse and polish the music for the final concert. The event also includes a reading session of unpublished compositions and arrangements submitted by participants.  We'll have publishers and editors from the handbell industry on hand to provide advice and guidance regarding copyright permissions and the publication process.
Members-Only Online Benefits
The second phase of our new website design is complete with the addition of our new members-only area. You can access the Member Center by clicking the Members Only tab in the upper right corner of our website or by going to members.HandbellMusicians.org.
If you're a non-member, we invite you to take advantage of a limited-time opportunity now to view the members-only content. You will find access to published editions of our official journal, Overtones, archived Member Chats and Member Notes on a variety of topics, and all the additional online resources typically available only to current members.
MemberChat with Rob Meyer-Kukan from the Healthy Musician Institute
Saturday, January 28, 2017 • 11 am Eastern.
Join us for the January 28 Member Chat with Rob Meyer-Kukan of the Healthy Musician Institute discussing some common handbell musician injuries, concerns and complaints as well as steps you can take to prevent them.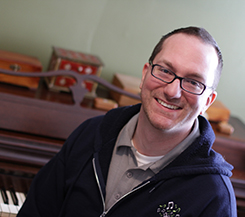 Rob Meyer-Kukan is the Director of Music at Dearborn First United Methodist Church, Dearborn, Michigan. He is a lifelong musician and an avid learner. He has rung handbells with The Detroit Handbell Ensemble, Classical Bells and the Capital City Ringers (Lansing, Michigan). He also participates in the Bay View Week of Handbells annually. Rob is a Licensed Massage Therapist and incorporates his anatomical knowledge as well as a focus on healthy musician practices in his work with clients and his music students. Rob is the owner of the Healthy Musician Institute, LLC where he is a massage therapist, teaches private music lessons and leads classes and workshops.
Music Notes from John Behnke
Coventry Carol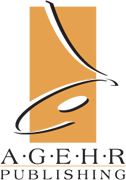 This month's featured piece is Julie Stitt's new arrangement of Coventry Carol, AG35349 for 3 to 5 octaves of handbells, 3 octaves of optional handchimes, and optional C instrument.   The Coventry Carol has become well-known over the years probably because it's different, being in a minor key and with such a lovely, haunting melody.    I asked Julie what inspired her to arrange it and she said, "I wanted to compose a simple Christmas piece that my Jubilate kids handbell group could perform that featured a soprano recorder. I had hoped to play the recorder with them as they played the piece."   
The piece begins with four ominous G minor chords that set the stage for the beautiful carol melody played either by handchimes or the optional C instrument, and accompanied by dotted half note chords.   A soprano recorder would sound very nice, but so would a flute or an oboe.   The middle section uses just bells and the C instrument plays a fluid eighth note descant.   Julie said, "I really like the descant that comes in at measure 21. It's unexpected and adds a nice counterpart to the melody."  And this eighth note activity builds to a broader and more powerful chordal section ultimately with G minor changing to G major at the close.  It's a beautiful and well-crafted arrangement.
Some of you may have played an older original piece of Julie's from 2002, La Paix, AG35212, that was performed by many groups.  People commented on the beautiful of that piece as well.   Julie Stitt grew up in San Bernardino, CA where she began ringing handbells at an early age at First United Presbyterian Church. She spent most of her childhood summers in northern Minnesota and after graduating from high school, received her Bachelor's Degree from Bemidji State University in Elementary Education and Elementary Music. Her graduate work at B. S. U. included a certificate in Learning Disabilities. She completed a Master's Degree from the University of Minnesota in Educational Psychology in 1985 and a license to teach vocal and classroom music K – 12. Julie's 35 years of teaching experience include assignments in special education, 2nd – 4th grades, elementary music and 6th grade science and math. She is currently a 6th grade science teacher in Independent School District 15, a district in the northern Minneapolis Metro area where she resides.
Julie has been composing and arranging for handbells more than 15 years. She has published handbell pieces in print with several publishing companies.  As the Director of Handbells for 15 + years at Our Saviour's Lutheran Church in East Bethel, MN, she is responsible for a beginning children's handbell choir, an experienced inter-generational handbell choir, and a small handbell ensemble. She also enjoys ringing with the experienced ensemble group and the small ensemble, and has been a member of the church for more than 25 years.
Here are pictures of her groups.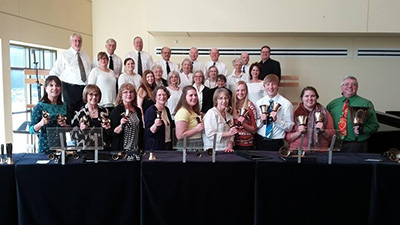 Julie says, "The first picture is of my Carillon Handbell Choir which has 11 members this year (one member is missing from the picture). This picture was taken on Palm Sunday this year after one of the services. The Celebration Choir is behind us. I'm on the far left. We ring ensemble style and I usually ring  G6 7 and A flat6, A6, B flat6 and B6.The Carillon Choir has always been intergenerational with high school to adult ringers. Many of us, myself included, have had our daughters and sons in the group at some point. I have some ringers in the group who have been ringing for 30 or more years. We've had a continuous handbell choir in our church since the early 1980's. I've been ringing in the group for 26 years and directing/ringing for more than 15 of those years. My small ensemble comprises 4-6 of the most experienced ringers from the large Carillon group. We typically ring for special services such as Maundy Thursday and Thanksgiving Eve."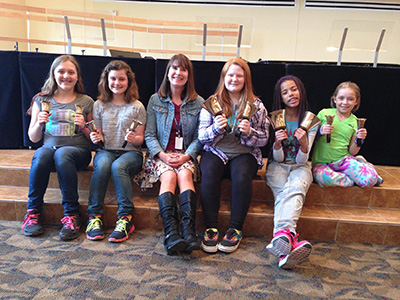 "The second picture is of my current Jubilate group. This group varies year to year and is made up of 3rd grade through middle school ringers. Many children that start in this group continue to ring as high schoolers in the Carillon Choir. Then I lose them when they go to college!> The fun thing about the Jubilate Choir  is that 4 out of 5 of the current members have been in my 6th  grade science class! Recruiting new members is always my biggest challenge. One year I had 14 ringers! The next year I had 8. I've changed rehearsal times from Sunday night to Wednesday confirmation night and then lost members.  Since they are so young, they are dependent on their parents' schedules. So, I'm constantly trying to figure out a good solution to gain more ringers. I'm currently ringing bass with my five girls and we're having a lot of fun."  
Julie says, "I've been married 32 years and have two grown sons. My husband Don is a dispatcher for Ruan trucking company. Michael lives in Seattle with his wife Brittney and my beautiful granddaughter Emily. He is a nuclear engineer in the Navy stationed on the USS Nimitz. Erik, my younger single son, is an airplane pilot working on his commercial license.He currently works for Walmart as an asset protection manager.."  
"I'm an avid gardener who spends hours of time gardening my two-plus-acre yard which includes a very large koi pond, waterfall, stream and numerous perennial gardens. I have also created and maintained gardens around St. Francis Middle School where I have been teaching for 18 years. My husband and I are  scuba divers who love to travel.   Over the last 4 years we've been to Hawaii and Cozumel with diving friends of ours and are planning future trips!  During the school year, I'm very involved at church directing handbells, singing with the contemporary band, and accompanying groups on the keyboard or piano as needed. Lastly, in the winter, when I can't garden, I enjoy reading, and composing music. "
I invite you to click here and look and listen to Julie Stitt's new arrangement of Coventry Carol, AG35349, Level 2.
Wishing you a very Happy Thanksgiving!
Until next month,
John Behnke, Music Editor