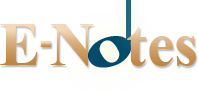 This Month
Distinctly Bronze West Registration Opens Today
National Events
GO HERE
to find out more about
all our national events.
---
Please consider helping defray the Guild's
day-to-day expenses
by making a
contribution to
THE GENERAL FUND 
---
Featured
Resource
Music educator Marilyn Lake brings you "Handchime Curriculum for Schools," based on the nine content standards in music education (MENC). Handbell Musician Resources are free to all current Handbell Musicians of America members.
Handbell Musician Resources>>
If you've not yet seen our first ever Virtual Handbell Ensemble, have a look HERE. Help us get as much exposure as possible by commenting and sharing.
Help build a pension for the Guild, by contributing to the HERITAGE FUND
Announcements
HANDBELL MUSICIANS OF AMERICA MAILING ADDRESSES
Please note that any PAYMENTS sent to the Guild should now go to the following address:
Handbell Musicians of America
PO Box 221047 Louisville, KY 40252
This includes membership renewal, contributions, event registration payments, invoice payments, etc.
All GENERAL CORRESPONDENCE that DOES NOT include a check payment should should be sent to:
Handbell Musicians of America
201 E. Fifth Street
Suite 1900-1025
Cincinnati, OH 45202
Distinctly Bronze West Registration Opens Today
Registration for Distinctly Bronze West 2017 opens today (October 17) at 11:00 AM EDT.  This event for advanced ringers is scheduled for February 23-26 at The Resort at the Mountain in Welches, Oregon.  Kathleen Ebling Shaw will conduct.
BIG RING AND BEYOND!
Help Support The Big Ring from Home
We've reached our goal for The Big Ring! We have nearly 700 musicians registered to help us break that handbell world record at the Mall of America on November 19.
Not able to join us in Minneapolis?  You can still participate in the celebration by supporting Salvation Army Red Kettle locations in your home town on November 19. Contact your local Salvation Army and offer to send your choir to one or more of their Red Kettle locations to ring and support their cause. You can find locations HERE.
There are many arrangements of holiday music available that can be rung in-hand, without tables.  Contact your preferred handbell music retailer for suggestions or search publisher websites for ideas.  You can find a complete list of handbell music retailers and publishers HERE. You may also contact us at the national office, and we'll help you find music that will work for your group.
If your choir will be supporting a local Red Kettle campaign, please let us know by emailing us at [email protected].  Tell us your choir name, the church or organization you represent, and where and when you will be ringing.  We'll share a complete list of those participating around the country on our website and Facebook page in November.
MemberChat with Beth Judd
Join us October 22, at 11AM EDT to discuss Rehearsal Techniques with Beth Judd in our next MemberChat.  Free for all members.
Efficient and effective rehearsals don't just happen. Let's look at ways to maximize rehearsal time and enable your choirs to be the best they can be!  Elements discussed in the session will include:
Preparation: ringers and space, music selection, rehearsal plans, score study
Rehearsal: logistics, following the plan
Ringer and Director tips and tools
Interpersonal challenges
Performance tips
Spend an hour with a rehearsal master and explore the various aspects of rehearsal techniques that will propel your choir to the next level!
College Ring-In Returns
Calling all college handbell musicians!  Join us in Dallas, Texas, January 4-7, 2017 for the 2nd College Ring-In.  This event brings college students and recent alumni together for three days of ringing under the direction of Michael Joy, culminating in a public concert on the final day.
Participants will be given their own individual ringing assignment to prepare in advance and the join other attendees to rehearse and polish the music for the final concert. The event also includes a reading session of unpublished compositions and arrangements submitted by participants.  We'll have publishers and editors from the handbell industry on hand to provide advice and guidance regarding copyright permissions and the publication process.
Music Notes from John Behnke
'Tis the Season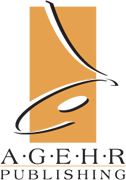 I don't know about you, but to me it's amazing how fast Christmas sneaks up on us.   Summer ends, school begins, the leaves begin to fall, and then wham! you are weeks away from Christmas and all the music that needs to be played.   Even though we hate to admit it, Christmas really 'tis the season for handbells and handchimes.
This month's featured piece is my new setting of He is Born! AG35351 for 3-5 octaves of bells, Level 3.    It's a Level 3 piece because there are sixteenth notes in it, but it's not a typical Level 3 piece because there are no bell changes.
He is Born! is the fifth such piece written as a Level 3 difficulty, without bell changes and with the option that you can do something logistically different.
The piece starts with a two-measure processional to get you to where you wish to stand, and then your ringers can play the rest of the piece sharing music stands or maybe even having the piece memorized.  When my choir got away from the music tables (our normal performance spot) and played directly in front of people, the reaction was one of sheer delight. The barriers were removed and people saw the ballet of bells right before their eyes.
He is Born! combines two Christmas melodies: the French carol, Il est né, and the English hymn  On This Night Earth Shall Ring.    The A section of the piece has Il est né in the key of F major and the B section with On This Night in d minor; two related keys.   These keys provide nice contrast without a single bell change.
And the music is written with melodic patterns that can be memorized by the ringers.   When I wrote the first one, Joy to the World, a number of years ago, we started by just rehearsing the piece as normal.   After a few weeks of working on the piece, I noticed that the ringers were not looking at their music; in fact they seemed bored.   That's when I asked, "do you think you can play the first section by memory?"   It was not flawless, but we could all tell that playing by memory was certainly possible if we worked at it.
Whether you play He is Born! in the normal way, or whether you try something different like playing in the aisles, or up front, or even memorized that's up to you.   But at least you know that this piece has possibilities for different logistics and something new and different for Christmas.   'Tis the season after all, for new and different!
The other four such Christmas pieces with this logistically possibility are:
Joy to the World AG35304
Ding! Dong Merrily on High AG35320
Good King Wenceslas AG35329
O Come All Ye Faithful AG35342
You know that each month I ask composers what they like to do when they are not composing; well, I like to kayak, I like to play the organ, and I like to cut grass.   Yes cut grass.   For me grass cutting is a wonderful time to "ponder anew."    And I love directing the Milwaukee Handbell Ensemble.  He is Born! was dedicated to them.  Here's a picture of our 2016-17 group.
.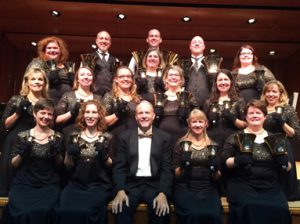 If you wish to "ponder anew" for Christmas ('tis the season after all) I hope you will take a look and listen to He is Born!  AG35351.
Until next month,
John Behnke, Music Editor