During Live from National Seminar, which is part of our National Seminar Online, Handbell Musicians of America welcomed two new members to the Honorary Life Membership roster.
Christine Anderson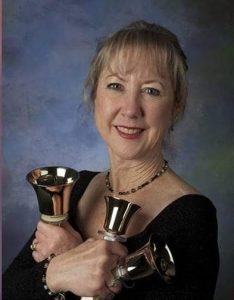 Christine Anderson first discovered handbells in 1972. She rang her first solo in November of 1980. She graduated from Florida Atlantic University with a BA in music with an emphasis in voice and handbell. In lieu of a senior vocal recital, she wrote a thesis on "The History and Practice of the English Handbell" and produced a video called Voices in Bronze. She went on to publish her first collection, titled Songs for the Solo Ringer, in 1987.
She has published over 120 solos and 11 collections, along with several CDs and videos. She has brought handbells to a broad audience in 26 countries, all 12 areas of HMA, and in all 50 states. Not to mention her performances on TV and renowned national and international stages and festivals. She has served as performer, conductor, and/or clinician for many guild events, seminars, conferences, and festivals, and currently serves as Area 12 Regional Coordinator for Central California.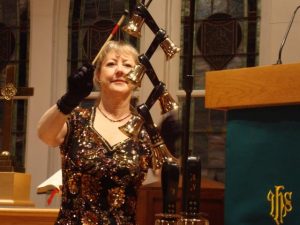 As nominating materials state: "Christine was the one, with her published music, who put solo ringing on the map. She gave us music. She gave us guides. And she gave us inspiration with her ringing." "She is a pioneer in her field and has given over 40 years to the craft of handbell ringing, composing and arranging music, teaching and mentoring others that come in her path." "She publishes, concertizes, directs, teaches, and inspires musicians world-wide."
And she does all of this with a grace, poise, joy, artistry, innovation, and humility that leaves the audience, ringer, and student forever changed.
---
Dr. John A. Behnke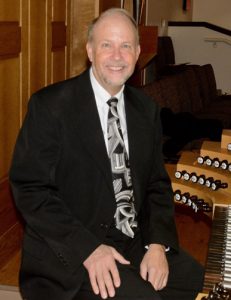 Dr. John A. Behnke has "tirelessly worked to advance the handbell idiom, raising the standards and elevating the art form over the years." He is meticulous, honest, humble, and generous, with the highest of expectations, and the deepest care and devotion to his ringers and students. "He is an uplifting person who works to make the circle bigger."
He was the founder, conductor and professor of a robust handbell program at Concordia University Wisconsin for 29 years that included a handbell ensemble that toured extensively throughout the US, Germany, and Scandinavia; and Masters of Church Music program for Handbells, Organ, and Choral.
The perfect teacher with a gift for guidance, helping his students to achieve their very best, while encouraging and challenging them to make a difference in the world of handbells and get involved with HMA.
He is the also the Founding director of the Milwaukee Handbell Ensemble, which he directed for 16 years. Both of his successful collegiate and community handbell ensembles played Holiday Pops concerts series with the Milwaukee Symphony Orchestra, as well as concerts at three different National Seminars.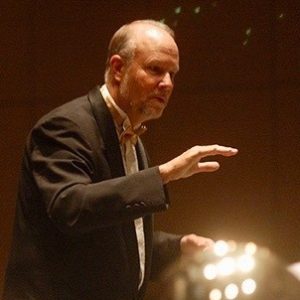 John is the composer of over 450 and counting handbell, choral, and organ compositions with 17 different publishers including his own publishing label. As AGEHR music editor for 16 years, he expanded the catalog with over 300 new pieces while managing resources and generating a surplus. He gently guided, encouraged, and supported many new composers through the process of preparing their first piece for publication with an eye to success, adding 34 new composers to the AGEHR catalog
John is steadfast in his devotion to advancing the art form of handbell and handchime ringing, and Handbell Musician of America, as a conductor, teacher, clinician, composer, mentor, editor, and friend. With his skill, musicianship, guidance, grace, and sense of humor, he elevates the people around him, inspiring generations of musicians, and making the circle bigger for the Guild and handbell musicians everywhere.
When informed of his award he responded:
If I write beautiful music, and have no ringers; it is just silence. 
If I wave my arms beautifully, and say all the correct terminology, but have not receptive ringers; it is pointless.  
And if I have all the knowledge and the music degrees in the world, but don't love my ringers as people, it is fruitless.   
But thanks be to God that I have been blessed with wonderful ringers and people in my bell choirs in Schaumburg, IL; Winfield, KS; and Mequon and Milwaukee, WI.  

About the Honorary Life Membership Award
From time to time, Handbell Musicians of America accepts nominations for and grants a special award known as the Honorary Life Membership, an award intended to recognize and honor a lifetime commitment to handbells, based on exceptional service to HMA and to handbell ringing in general. It is reserved for individuals of the highest caliber who have made outstanding contributions to the art of handbell ringing.
The first Honorary Life Membership award was given to Frederick Sharpe in 1963 at the 8th National Convention in Detroit, Michigan. Mr. Sharpe was considered the foremost authority on tower bells, and did much to further the art of handbell ringing during his lifetime. His contributions became the model for future Honorary Life Membership recipients, which now total 30 throughout the history of the Guild.
See our complete roster of Honorary Life Members HERE.