About the Honorary Life Membership Award
From time to time, the Handbell Musicians of America accepts nominations for and grants a special award known as the Honorary Life Membership, an award intended to recognize and honor a lifetime commitment to handbells, based on exceptional service to the Guild and to handbell ringing in general. It is reserved for individuals of the highest caliber who have made outstanding contributions to the art of handbell ringing.
The first Honorary Life Membership award was given to Frederick Sharpe in 1963 at the 8th National Convention in Detroit, Michigan. Mr. Sharpe was considered the foremost authority on tower bells, and did much to further the art of handbell ringing during his lifetime. His contributions became the model for future Honorary Life Membership recipients, which now total 30 throughout the history of the Guild.
Honorary Life Membership Roster
Honorary Life Membership
The following individuals have been granted the distinction of Honorary Life Member. They have all made major contributions to the Guild, giving freely of their time and talents to help advance the art of handbell and handchime ringing in America. Please Note: On October 1st, 2011 The American Guild of English Handbell Ringers, became The Handbell Musicians of America or simply, the Guild. Below you will see both names intermixed as appropriate to reflect both historical and current essential information about those who have risen above and beyond to make us the active and vibrant community that we are today.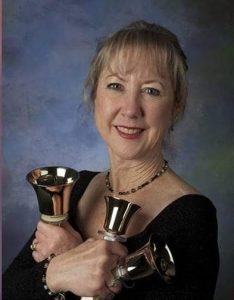 Christine Anderson first discovered handbells in 1972. She rang her first solo in November of 1980. She graduated from Florida Atlantic University with a BA in music with an emphasis in voice and handbell. In lieu of a senior vocal recital, she wrote a thesis on "The History and Practice of the English Handbell" and produced a video called "voices in bronze." She went on to publish her first collection titled, "Songs for the Solo Ringer" in 1987. She has published over 120 solos and 11 collections, along with several CDs and videos. She has brought handbells to a broad audience in 26 countries, all 12 areas of HMA, and in all 50 states. Not to mention her performances on TV and renowned national and international stages and festivals. She has served as performer, conductor and/or clinician for many guild events, seminars, conferences, and festivals, and currently serves as Area 12 Regional Coordinator for Central California.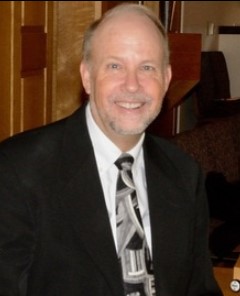 Dr. John A. Behnke has "tirelessly worked to advance the handbell idiom, raising the standards and elevating the art form over the years." He is meticulous, honest, humble, and generous, with the highest of expectations, and the deepest care and devotion to his ringers and students. "He is an uplifting person who works to make the circle bigger." He was the founder, conductor and professor of a robust handbell program at Concordia University Wisconsin for 29 years that included a handbell ensemble that toured extensively throughout the US, Germany, and Scandinavia; and Masters of Church Music program for Handbells, Organ and Choral. The perfect teacher with a gift for guidance, helping his students to achieve their very best, while encouraging and challenging them to make a difference in the world of handbells and get involved with HMA.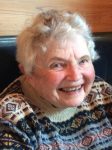 Joan Shull began directing handbells in 1966 in Manhattan, Kansas. Her teachers were Dick Litterst, Mary Kettlehut, Ellen Jane Lorenz, and Don Allured, and she soon had a thriving church program. Joan immersed herself in the world of handbells, attending events annually, mentoring new ringers and directors, developing the Area VIII resource library, and serving on the Area VIII board. Joan served as historian of the Guild and wrote and edited columns and articles for the Overtones. She served as the editor of the Overtones historical volume and was most known for penning a column known as Bach, Beethoven and ?  Joan also was responsible for creating the Tempo Setters videos, and co-authored the Oxford definition of handbells.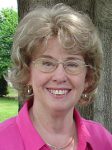 In 1981, Louise Frier* conceived of the bell tree technique while watching teens put away bells. She authored a manual on how to ring bell trees and began teaching the technique. She composed and arranged music specifically for bell trees, and many of her compositions were packaged in a unique combination of bell tree, chimes, and malleted bass. Bell trees are now used as solos, duets, trios, as well as accompanying full choirs  ̶  all because of the foundation first laid by Louise Frier. Louise recognized what could have simply been a bunch of teenagers goofing off as a potential new handbell technique. She created that technique, saw it through to a new art form, wrote compositions for it, and was continually willing to teach it to others.

Deborah Rice is someone whose dedication to Handbell Musicians of America is beyond measure. Her work for the Guild has included serving as chair of Area 3, as an area representative to the national executive committee, as national secretary, as a founding member of the Distinctly Bronze planning committee, and as president of the Guild from 2005 to 2008. Deborah was also author of procedures for the policy governance nominating committee, author of procedures for the Honorary Life award, and an International Symposium committee member for 2006 and 2008. She is currently the executive director of the International Handbell Committee (IHC). She accomplished all this while organizing, directing, and serving as conductor and clinician at events around the country and the world. Since 1983, she has also served as the director of handbell ministries at Becks Baptist Church in Winston-Salem, North Carolina.

Valerie Stephenson's introduction to handbells came when she discovered a set of bells in her school storage closets in 1979. She soon became a trendsetter in the world of handbells in education. Her school, Trinity Episcopal, received one of the first Exemplary Handbell Program in Education awards. From the surprise discovery of handbells in her school, Valerie then moved into areas of local, area, and national leadership and service as part of the Guild. She was active on the area leadership team in Louisiana for over 14 years and has served as Florida state chair for the last several years. Nationally, she was a chair of the bylaws committee—reviewing, rewriting, and assisting all 12 areas in bylaw compliance and revisions—and she was a member of the original handbell notation committee. She has also served on numerous national event planning teams, including the 50th anniversary celebration. She has been a regular contributor to Overtones and, for three years, authored the humorous column called "Potpourri." As a composer, her published compositions number over 250.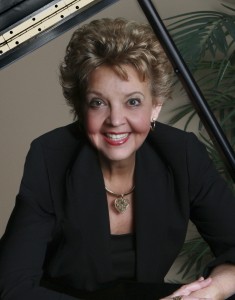 Linda McKechnie has made numerous contributions to our organization, serving the Handbell Musicians of America at both the area and national levels. She was chair of area 9 and also served as president of the national board from 1987 to 1989. At that time, the area chairs served on the national board at meetings, and one's term as president included two years as president-elect, two years as president, and two years as past president. During her term on the national board, Linda was in charge of planning both the National Seminar and the National Festival. She was instrumental in organizing the Master Classes to allow enough time to adequately cover specific topics. She has also served as conductor and clinician for several national and area Guild events. Through her generous support and enthusiasm for visioning projects, others have been encouraged to participate in the Legacy Society, scholarship programs to assist members in attending events in the areas of education and special populations, and the current New Initiatives program. Linda has numerous published handbell arrangements to her credit, including many for handbells plus brass or orchestra. She is a pioneer in expanding the repertoire for the combination of handbells and other instruments. She is also an author of curriculum for the current Handbell Musicians of America certification program.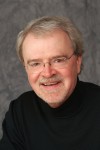 David Weck has represented the Handbell Musicians of America as conductor and clinician at numerous area, national, and international events, including festival conferences, symposia, National Seminar, and workshops, and David served as guest conductor of the 2009 Distinctly Bronze East event. Area 8 has awarded David with their Outstanding Service Award. His years on the national board included selfless and tireless efforts to support the organization's transition to the policy governance role model and the revision of its bylaws. He also served chair of the 2008 nominating committee.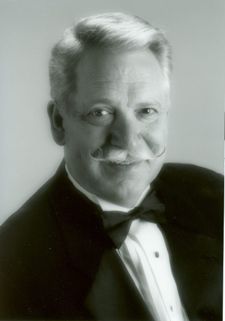 William Griffin (2008) has been involved at every level of Handbell Musicians of America as a dedicated volunteer, officer, and leader.  He has also contributed to the overall art of handbell/handchime ringing through international service and leadership, as well as through the creation of great works of handbell/handchime literature.
Among the positions he has held within the Guild are Area Chair (Area V), AGEHR National President and all elected offices of the Handbell Industry Council.  In addition, he responded to a critical call for service as Interim Executive Director, a challenge he accepted and executed amidst the most trying of circumstances.  Bill's leadership at this time was the steady hand needed by the staff, Areas and membership.
He established successful handbell programs at two high schools and one university. In 1991 he founded the community group, Symphonic Handbells of Columbus which he conducted until 2003. These choirs were internationally recognized for their recordings with various publishing companies and worldwide concert performances.
He also Chaired Distinctly Bronze, served an eight year term as Executive Director for the International Handbell Committee and Chaired two International Symposium hosted by AGEHR (1996 & 2008).  This is in addition to serving as clinician and conductor for Area and National festivals and the International Symposium.
Bill's service to the art of handbell/handchime ringing is also vast.  He has arranged many advanced classical works for handbells.  He has served as music editor for AGEHR Publishing and is currently handbell editor for Beckenhorst Publishing.
William Griffin has done as much as any individual in making Handbell Musicians of America and handbell/handchime ringing what they are today.  His vital contributions are evident in nearly every facet of our Guild and our art form.

Karen Leonard (2008) is known throughout Handbell Musicians of America for her service, leadership and commitment. In her twenty-six years as a Guild member she has never tired in her dedication and hard work.  She began her service to Area I in 1985 as an At-Large Board Member, and subsequently served two terms as Area Secretary followed by the six year Area Chair cycle. She went on to serve nationally as National President of AGEHR. A founder of the Merrimack Valley English Handbell Festival nearly twenty years ago, she has helped lead this event every year through 2005, when it became the Massachusetts Spring Ring, one of the models for the Springs Rings now held in many Areas. She has also served as teacher, organizer and clinician at Area and National events. The current National Board governance model was launched and nurtured during her tenure as President. This major change to the organizations governance model required her diplomacy, energy and perseverance, all of which were critical to its success. Since leaving the National Board, Karen's service to the Guild has continued unabated. She organized the National Festival conferences in 2005 and 2006 and has helped create and execute the Master Classes in Conducting and Composing annual events. Understanding the needs of more advanced musicians, she has also chaired the Distinctly Bronze event. Intertwined throughout her various service roles, Karen has always exhibited what may be her greatest contributions; love and enthusiasm for handbell/handchime ringing, continuous learning, teaching and growing, and the ability to relate to people of all ages by demonstrating genuine interest in their thoughts and feelings.

Dr. William Payn (2005) With more than 30 compositions to his credit, one of Dr. Payn's major contributions to Handbell Musicians of America has been to write quality music that "raises the bar" for handbells. His compositions also help to bridge the divide between the world of handbells and other types of music. Several years ago, he wrote "Heart Melodies," possibly the first original work for handbells and orchestra, which was performed by the Phoenix Symphony Orchestra in 2002.
Dr. Payn is a professor of music, director of choral Studies, and chair of the department of music at Bucknell University in Lewisburg, Pennsylvania, where he directs the Rooke Chapel Choir and Rooke Chapel Ringers. Both choirs have performed all over the world and have appeared nationally on public television. He is also the director and conductor of Susquehanna Valley Chorale and Orchestra.
In addition to his many professional accomplishments, awards, and recognitions, Dr. Payn has been the festival conductor and clinician at many Guild events. He is always in great demand as a clinician, teacher, and conductor; one Handbell Musicians of America member states that Bill Payn has "calm, quiet conducting—easy and free in motion and conveying no tension to the ringers, a caring attitude for each person in the group, and an insistence on the very best participation from each person in the choir—never accepting second best. He has a winning combination of intelligence, confidence, knowing the music well, and bringing forth the best from his students."
Dr. William Payn's life experiences show that he has a vision for the art of handbell ringing that is compatible with the Handbell Musicians of America mission to further the musical art of handbell/handchime ringing through education, community, and communication.

Ginny Fleming* (2003) has been a member of Handbell Musicians of America since 1973 and only within the past few years retired from a handbell program she developed during the 70's at First United Methodist Church in Chula Vista, California. Throughout her lifetime of service to the Guild she has been noted for her "ability to draw people into activities" as well as "having great skills in working with a variety of personalities."
As an active member of Area XII, Ginny served as Regional Representative, Area Chair (1980 – 1982) and many times chaired festivals, seminars, cruise and special event conferences. Upon completion of her term as Area Chair (a six-year cycle) she was elected National Secretary for two terms (1983 – 87). During this time in addition to duties as an Executive Committee member she chaired Honorary Life twice and served on a National Bylaws Revision Committee that included the preparation of the Guild's first rules of procedure document. Ginny served as AGEHR's National President from 1995 – 97. This additional six-year cycle included chairing National Festivals and Seminars, more Bylaws revisions and groundwork for the early stages of our Guild's restructuring process.
In addition to serving more than once as an elected officer, she has a diverse portfolio as chair or committee member for search committees for Executive Director, Guild employees and sites for national events, Past Officers Council, Donald E. Allured Composition Award, Who's Who in Handbells and other numerous committees. She is currently Chair of AGEHR's 50th Anniversary Celebration, which will kick-off during the National Director's Seminar in Hartford this July. Ginny is also recognized for her significant outreach to other Areas in addition to her own. She has traveled many extra miles for those who needed assistance without expectation of reward or personal recognition. As a master of multitasking, she has and continues to be a team player working with efficiency and attention to details for every endeavor.

Marilyn Hines* (2003) a graduate of Indiana State Teacher's College (now Indiana State University in Pennsylvania), has been a Guild member for thirty-three years. After teaching music in the public schools for several years she gravitated towards church music and in1968 began directing handbells at Center Presbyterian Church in Slippery Rock, Pennsylvania. In 1976 she founded and continues to be actively involved with the North Hills Handbell Festival in western Pennsylvania. Her name is synonymous with this event and the force behind its ongoing success engaged in every detail from laying out the floor plan and setting up tables to planning workshop sessions. Marilyn will do any task that needs to be done. Area II has said, "when we have an organizational challenge, we know we can call on Marilyn to save the day…she has always been willing to serve Area II whenever asked, doing whatever she can to help."
In 2000, her wisdom and experience were invaluable for the development of yet another a new festival in Area II now successfully meeting the needs for level 1 & 2 choirs. Currently she is faculty coordinator for the 2003 Area II Festival Conference and serving on AGEHR's 50th Anniversary Celebration Committee. Marilyn served as Chair of Area II (1985 – 87) and later as National President (1991 – 1993). During her term as President the Endowment Fund was established, silent auctions at seminars were begun and a handbook for organizing festivals developed. Her strong administrative and organizational skills have been and continue to be an asset for every area of work she undertakes for Handbell Musicians of America. Of particular note is her spadework towards the development of AGEHR's Certification for handbell directors. She has served as faculty coordinator for numerous national festivals and seminars and worked on an event planning committee for the International Symposium. Her influence as a strong administrator, good leader and patient mentor has been felt from the local level through Area II, nationally and internationally. Marilyn is an encourager, knowing how to enable others to accomplish more than they thought was possible.

Michael R. Keller (2001) holds both a bachelor's and a master's degree in music performance, has more than two hundred musical works listed in the catalogs of a dozen publishers, and has authored handbell method materials and an instructional videotape that teaches ensemble techniques in a sequential manner. Mr. Keller served as AGEHR Louisiana State Chair for two terms, Area VI Chair-Elect and Chair, and as President-Elect and President of AGEHR Inc. He is also the founder and director of two community handbell choirs for middle high and senior high youth. He has conducted the Union Symphony Orchestra's annual Christmas Concert and served on its Board of Directors.

Martha Lynn Thompson (2001) is a graduate of Henderson State University where she received her bachelor's degree in music education with a major in organ and theory. She has more than 200 published arrangements and transcriptions that range from music for the beginning bell choir to music for the most advanced choirs. Mrs. Thompson was one of the first arrangers to transcribe symphonic works for handbell choirs. For many years she served on the Arkansas AGEHR Board in Area VI, helping organize festivals and seminars, and both she and her husband have been named lifetime honorary members of the Arkansas AGEHR Board. In 1989 she was elected National Secretary of AGEHR, and she served on numerous national committees. In 1995 Mrs. Thompson was designated by AGEHR as a Master Instructor of Handbell Notation. She is known for topics on arranging and composing, beginning and children's handbell choirs, techniques and bell assignments.

The love and enthusiasm for handbells in America sprang from the hands of Margaret Shurcliff of Boston, Massachusetts. She introduced many friends to the joys of handbell ringing, and her Beacon Hill Ringers became well known for their annual Christmas caroling on Beacon Hill. The popularity of handbells spread rapidly through New England in the early 20th century.  In 1937 several handbell enthusiasts met at Margaret's home and formed the New England Guild of English Handbell Ringers, with Margaret serving as its first president.  By the early 1950s, handbell ringing was scattered across the United States. In February 1954, the New England Guild met at Margaret's home to plan the first American handbell festival and The American Guild of English Handbell Ringers was formed.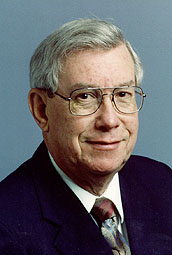 Jacques Kearns* (1998) began his service to the Guild after being a member for many years but never attending an event. He first encountered handbells at a choral festival and prayed he would be delivered from ever having to work with them. Soon after he became the minister of music for a church in Augusta, Georgia, who had one of the first sets of handbells in the Southeast. In his typical style, he set to work to learn about the instrument and began to train ringers. He served as chair of Area IV for five years, was elected national treasurer for two terms, and in 1991 elected to the six-year cycle of the presidency. His continual willingness to give of himself, both to the Guild and to individual members, spoke volumes about his faith and his character. Throughout his association with the Guild there seemed to be nothing the organization asked of him that he was unwilling to do.

David R. Davidson* (1996) has been active in handbell ringing and the Guild for more than 20 years. He served as Chairman of Area V and was a member of the first Congress of the Guild. He served one term as the National Secretary, and later the six year term of President-Elect, President, and Past President. During these years, his special contributions included organizing the second seminar, the format of which developed into the present long-standing format; being instrumental in developing the first International Symposium; helping form the Handbell Industry Council (HIC); and having the vision to plan and open the first National Office of AGEHR. David is well known for his excellence as a massed ringing conductor and workshop leader. He formed and directed the Dallas Handbell Ensemble and serves as a full-time church musician. In memory of David Davidson.
Doris Watson* (1996) is a pioneer in handbell ringing in the United States. As one of the first people to introduce handbell ringing in churches, her choirs were a definite change from the practice of the day. Before her work, most sets were owned by individuals who had family and/or community groups. Her early choirs not only introduced handbells in the church service, but also made use of more harmonies than was the custom. At that time, her practices were considered by some to be questionable. Undaunted, she furthered the cause by having her bell choir appear twice on the old Gary Moore TV show in 1948; an exposure that is credited with the beginning of a nationwide interest in handbells. Doris is a charter member of the Guild, having attended the first festival gatherings at Castle Hill. She has published numerous articles in the earlyOvertones and also wrote one of the first books on handbell ringing. She has remained active in the Guild for over 40 years, participating in Guild tours and attending most of the recent Seminars.

Jacob Malta* (1994) has devoted his career to the design and production of handbells. He was the handbell design engineer for Schulmerich Carillons from 1962 to 1972. He founded Malmark, Inc. in 1974 where he has designed and produced handbells in bronze through a nine octave range. In 1982, he introduced the first American handchime under the name of Choirchime © Instrument and expanded the range from C2 to C8. He has also designed and produced the first acceptable aluminum bass handbells for lower 5th, 6th, 7th and 8th octaves. He says after 35 years of hands-on design and tuning of handbells, the old adage of "The more I learn, the less I know" accurately describes his knowledge of handbells. He lists his greatest gratification as, "participating and contributing towards achieving the goal of the AGEHR in "Uniting people through a musical art." In Memory of Jake Malta
Lawrence Fink* (1994) originated "modern" solo ringing and taught advanced ensemble ringing when most ringers were still using only two bells. He formed the Fink Family Handbell Ringers in 1959, who presented over 150 concerts during five cross-country tours, teaching all who wanted to learn about their techniques and music. Larry introduced handbells to the Seattle World's Fair in 1962 and taught ringing in four junior high schools and one high school in the Seattle area. He served on many Guild committees, contributed articles on handbells in education in Overtones, and has attended numerous festivals over the years. Larry Fink died in July 1998.

Everett J. Hilty* (1992) described his introduction to handbells as being "conned into becoming involved…at the University of Colorado in the Neanderthal days of modern handbell ringing." On faculty for many years, Everett left a legacy in organ and handbells, and the handbell alumni still feel his influence. As a composer, Everett stretched the traditional concept of melody and harmony, writing music that was both rhythmically based and explored the special sonorities of handbells.

Andrew L. Flanagan* (1990) began working with the Guild early in his career when he was involved in organizing Area II. He went on to serve as the National Treasurer. Andy left his position as Associate Executive Director of Choristers Guild to become the first Executive Director of the AGEHR. His first responsibility was to set up the National Office in Dayton, Ohio. This marked the beginning of a new era for the Guild. Andy also served in churches as Music Director in Pennsylvania, Texas and Ohio.

James V. Salzwedel (1990) Salzwedel was the editor of Overtones from 1971-75 and served as President from 1977-79. He is best remembered as the author of the Guild's motto, "Uniting People Through a Musical Art." While serving on the Board throughout the 1970's, his visions were for a central Guild office and advances in using handbells in special education. Jim is a minister in the Moravian Church as well as an organist and choir director. His Hussite Ringers made their first tour in 1965, and continued touring for many years. He introduced handbells into the Virgin Islands, and trained the first bell choir on St. Thomas while serving a church there.
Ronald Schink had the dubious honor of being appointed National Festivals Chairman by eight AGEHR Presidents from 1967 through 1985. Ron organized his first bell choir in 1961 and has been a member of AGEHR ever since.  He was both Chairman and Festival Chairman of Area V.  When his term as Area V's Festival Chairman ended, he began his 18 years of continuous service as National Festivals Chairman.

Mary V. Kettelhut* (1988) began a long association with handbells and the Guild in 1962. She served as the handbell director for the Bennett, Nebraska Community Church for 36 years, bringing youth choirs to Area and National events for 33 years. Among her other talents, Mary was one of the early solo handbell ringers, performing at many of the Area and National events. Mary was the last of the elected National Registrars of AGEHR, Inc., serving from 1975 until 1981. Mary was elected to the National Presidential cycle, serving as President 1983-85. In memory of Mary Kettelhut

Robert A. Ivey (1986) has the distinction of having taught handbell ringing to many church choirs over the years as well as to the Radio City Music Hall Rockettes. In truth, the Rockettes just pretended to ring as a recording of his Red Bank choir was provided the music. His love of handbells began after graduating from Westminster Choir College, when he took a job at Latrobe Presbyterian Church in Pennsylvania and discovered they had a set of Petit and Fritzen bells on order. Knowing nothing about handbells, he set out to learn all he could about the instrument. Since then, he has built strong church choirs in Red Bank, NJ and in Charlotte, NC. Bob served the Guild as National Secretary, through the Presidential Cycle (President 1971-73), on many committees, and as a clinician and massed conductor.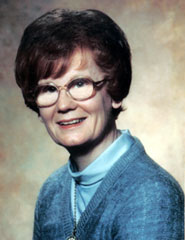 Dorothy Elizabeth Boyd Garee (Betty)* (1986) born January 12, 1927, in Paterson, New Jersey, is truly an icon in the development and contribution to the worldwide library of handbell music scores. Some of these titles include "America," "Infant Holy, Infant Lowly," "Praise to the Lord," "A Mighty Fortress Is Our God," "Forgotten Dreams," "Sarabande," "Fantasy on an Old Bell Inscription," "God With Us For All Time," "Holy Manna," "Land of Rest," "In Joseph's Lovely Garden," "Le Bal," "L'Arlesienne Suite," "Le P'ing," "March of the Dwarfs," and "Melita (the Navy Hymn)". Other favorites include "Hosanna," "Joy to the World," "Deck the Halls," "I Heard the Bells on Christmas Day," "Il Est Ne, Away In A Manger," "O Canada," "Reflections," "Stille Nacht," "The Skaters," "Rainbow Connection," "Trumpet Voluntary," "Un Flambeau," "Jeannette Isabelle," "The Church's One Foundation," "For All The Saints," "Wedding Day At Troldhaugen," "O Tannenbaum," "The Ball," and "Materna (America the Beautiful)".
Betty Garee had a penchant and drive to produce only the best quality performances and promoted her love of people and handbell music through the expression "Soli Deo Gloria," which means, "Only to the Glory of God," Betty graduated from Ridgewood High School, New Jersey, in 1944, stating under her yearbook picture, "Without music, life would be meaningless." Educated at Oberlin Conservatory of Music in Ohio, she received her bachelor's degree in music theory in 1948 and then taught music theory at the graduate level at Oberlin, where she met her future husband, physics instructor William A. Garee. She then went on to Columbia University to receive an advanced degree in theory and piano.
Married in 1954, the Garees raised three children, James F., Anne E., and Joyce E. Garee. Simultaneously, Betty served as director of the Klokken and Campanola Ringers at the New Hackensack Reformed Church in Wappingers Falls, New York, from 1972 to 1985 with organist Robert F. Jutton and Rev. James A. Neevel. During that time, Betty and her Klokken Ringers toured the eastern seaboard, rang at local, state, national, and international festivals, and produced three vinyl recordings. DEBG Music Distributors of Saugerties, New York, recently produced The Betty B. Garee Anthology, a CD of her publications performed by professional choirs across the world.
Betty was named an Honorary Life Member of the Guild in early 1986. On May 27, 1986, she died at the age of 59, leaving those who continue to ring handbells, 39 publications of her original work, transcribed and adapted works, and a number of non-published personal arrangements. Thousands ring and hear her music and have experienced her impressionistic and ethereal musical signature.

Mary G. McCleary* (1984) was the Chairman of Area I of the New England Guild of English Handbell Ringers when it merged with the the newly formed American Guild. This made her the first Chairman of Area I of the AGEHR, Inc. She served as the Chairman for four years and then became President of the National organization (1979-81). Mary has spent her professional life as a church musician, serving as a director and organist, as well as an accomplished solo ringer. Mary retired after many years as organist/choirmaster in Naugatuck, CT. She was introduced to handbells after her minister heard Richard Litterst's choir ring in 1958. The minister wanted bells, they were purchased, and Mary was hooked.
Woodrow D. McKeehan* (1984) known to all as "Mac," served the Guild in many capacities on both area and national levels. For more than 40 years, he served as the director of music at First United Methodist Church in Bartlesville, Oklahoma, which is where he first became interested in handbells. His choirs participated in many Guild festivals, and Mac himself often participated as a solo ringer and clinician. He served as Area IX chair in the late 1960s and early 1970s (before the areas were realigned to 12), and then served as national registrar from 1971 to 1975. In 1975, Mac was elected national treasurer, a position he held until 1983. During his tenure as treasurer, he did much to help the Guild plan wisely for its future. In 1983 the national board of directors' established the W. D. McKeehan Scholarship as a tribute to all that Mac had done for the Guild. In the years since its establishment, many individuals have received scholarships to attend either a National Festival or a National Directors' Seminar. Mac died on Nov. 28, 1987.

Donald E. Allured* (1982) has been a leader in establishing a standard of excellence for handbell choirs. Throughout his church choirs, his work at Westminster Choir College, his compositions, and his instructional books, he has continually taught that bells must be played with musical integrity at all times. He began his work with handbells in 1963 when a donor at his church wanted to buy the instrument with which he had no experience. He attended his first AGEHR festival that year and began a life long love of handbells. Don is a Past President of AGEHR, Inc., serving 1973-75. He has conducted an advanced bell ringing workshop in Michigan for more than 20 years. He continues to support the work and goals of the Guild. In Memory of Don Allured
Willard H. Markey* (1980) set as his goal in 1963 helping to bring handbells into the mainstream of the music industry. He wanted to see handbells accepted and recognized as a legitimate member of the family of fine musical instruments throughout the world. He was the first person to exhibit a set of handbells at an MENC conference, thereby beginning the process of bringing bells into music education. As a result, handbells have been displayed at every MENC National Biennial Conference since 1963 and many concerts and workshops have been offered as well. For many years, Willard served as the unofficial photographer at national handbell events. Many of the photographs seen in Overtones through the years were taken as he attended festivals and seminars.
Ellen Jane Lorenz Porter was introduced to handbells in 1955. Her first significant bell composition "Bell Jubilee," was first published in 1969.  She had many passions, but handbells remained one of her favorites.  In fact, she was instrumental to the growing popularity of the idiom, being one of the early champions and creators for handbell music throughout the world. Ellen Jane joined the Lorenz Publishing Company in 1932 as Editor-in-Chief and was made a partner (third generation) in 1940.

Elizabeth "Zabeth" Bradford* (1978) began a life-long passion for handbells when she was asked by Mrs. Margaret Shurcliff to join her Beacon Hill Band to ring carols on Christmas Eve. Her first experience at ringing was marked by an evening of ringing the C5 bell without being able to produce a sound. Regardless of her difficulties, she was hooked and became a regular member of the band. As a member of the New England Guild of English Handbell Ringers, she managed the festivals at Castle Hill for many years and met ringers from all over the country. While serving as the president of the New England Guild, she was elected secretary of the American Guild. As a teacher of underachieving students, Zabeth discovered the many wonderful teaching opportunities provided by ringing handbells. She formed The Pudding Hill Ringers, one of the earliest school handbell programs.

Richard Litterst* (1974) did graduate work at the School of Sacred Music at Union Theological Seminary in New York City. While there, he was introduced to Doris Watson who was then directing the handbells at Brick Presbyterian Church in New York. Through her, he learned of the New England Guild of English Handbell Ringers and its annual festival held at Castle Hill, near Ipswich, Ma. He began attending their festivals in 1952, His interest in handbells took him to England and a brief period of association with the Whitechapel bell foundry in London. Dick was a signer of the AGEHR certificate of Incorporation in 1965, and has served as Vice President and President of the Guild (1967-71). Following serving as National officer, he served as the Chairman of Area VIII.
Robert H. Hieber* (1967) was the third president of the Guild, serving from 1959-63. His presidency came at the end of the Castle Hill Festival era and at the beginning of the National Festival era. When asked to share what he felt was his unique contribution to the art of handbell ringing, Bob listed "the formulation of area groupings as the AGEHR organization grew, the insistence on maintaining the spirit of sharing, and the perpetual absence of competition among bell groups." Looking back over Bob's term in office, Nancy Poore Tufts wrote in 1976 that Dr. Robert Hieber, the first of the line of professional church musicians to bear the torch, made tremendous early strides in setting up festivals and improving equipment and the quality of music. Bob served as organist at Peach Memorial Presbyterian Church in Clearwater, Florida, from 1968 until his retirement in 1987. After a short bout with cancer, he died at his home in Largo, Florida on May 31, 1992.
Marvin E. Reecher* (1967) served four years as the Guild vice president, then succeeded Robert Hieber to become the Guild's third president, serving from 1963 to 1967. Marvin served as the minister of music at Boston Avenue United Methodist Church in Tulsa, Oklahoma, for 32 years. His graded choir program, including multiple handbell choirs, numbered more than most church memberships in the country. He set an all time festival attendance record in 1971 by taking 110 ringers from Boston Avenue to the National Festival in Morehead, Kentucky. Marvin lists as one of his special memories the honor and pleasure he received conducting 1,500 ringers at the National Festival in Orlando, Florida.
Bessie Erb* (1965) In her book, The First Quarter Century: 54-79, Elizabeth Bradford writes: "Bessie (Mrs. Norman) Erb used her inexhaustible energy and organizing ability to spread the gospel of bellringing. Together with Mrs. Shurcliff, Bessie Erb gathered the bands in the Boston region into an organized unit – the New England Guild of English Handbell Ringers – which met annually for exchanging ideas and ringing their best, but also for sociability's sake. When it became evident that many people outside New England were interested in learning to ring and to start bands in their hometowns, Mrs. Shurcliff and Mrs. Erb conceived of a nation-wide organization. Together they stirred up interest and ideas until the American Guild came into being. Bessie Erb took over the editorship of Overtones, then the presidency of the Guild, succeeding Mrs. Shurcliff in 1957." In 1960, Mrs. Erb expressed her feelings about what the Guild could do for its members. "Have you ever considered what it means to belong to a unique organization that in less than six years had grown into full bloom? Springing from an old English custom, it has become a modern organization filled with the spirit of research, experimentation and service characteristic of the scientific age in which we live … since the handbell is comparatively new in America, it presents an opportunity to grow in a new area. Members of the American Guild of English Handbell Ringers are challenged to experiment in making satisfactory handbells; to discover new uses for the handbell as a musical instrument; to learn to play a new instrument; and to create music for handbells. We are given innumerable opportunities to serve; as directors of young people and adults; as contributors to the service of worship…and as bringers of joy to thousands of people for whom we ring." Ever filled with ideas, love of people, and the ability to get things moving, Bessie Erb started with a group of ringers at her retirement home, knitting the ringers together with the magical bonds created by bellringing as a team. Never did she herself lose interest in bells, ringing, bellringers, or the American Guild of English Handbell Ringers.
Helen Runkle* (1965) In her book, The First Quarter Century; 54-79, Elizabeth Bradford writes: "Another enthusiastic contributor to the spread of bellringing was Helen M. Runkle, a quiet, self-effacing musician from Gloucester, Massachusetts. She had a small set of bells but arranged the music so skillfully that it was most delightful to hear. Her six Cape Ann Ringers rang from memory, expertly handling the two octave set without using a table. Ringers in charge of more than two bells had their bells conveniently hung from ribbons around their necks. One hanging bell could be exchanged readily for another. It was delightful to watch the graceful, spirit, and sensitive ringing…Mrs. Runkle, though modest and self-effacing, succeeded in being among the first, if not the first, to have her bell arrangements published by J. Fischer and Brothers. Many a beginning group, or groups with as few as two octaves of bells, have enjoyed using her HANDBELL CONCERT, published in 1959." In the September 1974 issue of Overtones, Richard Litterst wrote In Memoriam to Helen Runkle: "I knew Helen Runkle only through her work with handbells. For many years we would renew our acquaintance each August at Castle Hill in Ipswich, Massachusetts. During the 1950s, it was almost a tradition that she would bring her Cape Ann Ringers from Glouchester for one of the demi-concerts. There would always be five young girls of post senior high age who would stand in a single line and play, from memory, a program on the small diatonic set of bells numbering about 17 altogether. "Little used extra bells were hung on a ribbon around the neck; when such a bell was needed, one of the main bells (right or left hand, was temporarily retired to the little finger of the other hand, thus freeing one hand to ring the suspended bell. Extra bells for other pieces rested at the feet of the ringers." "On May 23, 1974, Helen Runkle died. Of her work for, and participating in, the New England Guild of English Handbell Ringers and the early days of the formation the American Guild of English Handbell Ringers, we are, indeed, the beneficiaries. It was most fitting that she held honorary membership in AGEHR. God bless!"
Frederick Sharpe* (1963) In 1991, Martha Lynn Thompson wrote that it was difficult to find information about the Englishman Frederick L. Sharpe, and that most of what has been gathered is due to the kindness and fine memory of Richard Litterst and to all early Overtones articles written by the Alinda B. Couper. Mr. Sharpe was probably the foremost English authority on tower bells and he wrote extensively about countless bell towers. He could be called the Curator of Bell Towers as he was a specialist on the strains and stresses of these structures. He would receive calls from all over the world, and if facts were stated accurately, he could diagnose what was wrong with the tower and send a prescription to fix it. As the honored guest at the 1963 National Festival in Detroit, Frederick Sharpe taught the ringers how to ring changes and he listened to the massed concert of 800 ringers, the likes of which he had never seen or heard. For the final concert he had been given a small bell, which, after the group had played the last chord, he rose from his seat and rang so that he might go home and say that he had rung with the largest gathering of handbell ringers ever to play together in the world. He also brought the festival to a close by striking a number 19F# (F#4). Richard Litterst once said, "Fred Sharpe was quite a bell man. I should say that he brought status to AGEHR, rather than the other way around." In the May 1976 issue of Overtones, Nancy Poore Tufts wrote In Memoriam of Frederick Sharpe: "Bell ringers and architects of England and America were grieved to hear of the passing of Frederick Sharpe ("Mr. F#"), FSA, of Oxfordshire in February, 1976. "A former President of the Central Council of Church Bell Ringers of Great Britain, a respected church architect specializing in the restoration of towers and ancient church fabric, a renowned campanologist in the true meaning of the term, an excellent Church Ringers and Handbell Tune Ringer, Mr. Sharpe was the author of a number of books on bells of the various Shires of England, personally having examined and identified and recorded many forgotten and unusual bells. Mr. F# endeared himself when he consented to attend the Detroit Convention of 1963 as guest campanologist and clinician… Those who met him will never forget the large smiling Englishman, perspiring in the Detroit humidity! … We will never forget Mr. F#."