from Linda Minnotte
"I'm In because I ring" is a wonderful statement. Since 2006, when I attended my first Distinctly Bronze, I feel like I've been IN—in with a group of dedicated, talented and wonderful handbell musicians.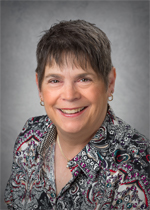 Thanks to Handbell Musicians of America, events such as Distinctly Bronze and National Seminar have given me the opportunity to grow as a musician, improve my skills, and to meet some absolutely great people who have become my friends. I have had the privilege of ringing under the baton of David Davidson, Fred Gramann, William Payn, and David Harris, to name just a few. These experiences were enriching, with each conductor teaching me something new and pushing me to become a better ringer.
At National Seminars, I have had the opportunity to listen to wonderful ensembles, to network with other handbell musicians, and to learn. At Distinctly Bronze, there have been "wow" moments—where the entire ensemble is just so together. These are all things that have changed my life.
I have been a member of HMA for more than 30 years, and now I am member of the Handbell Industry Council as well. I believe very strongly in this organization that has made a difference in me.
I have supported Handbell Musicians of America by my annual membership, by contributing and bidding on items for the silent auctions held at national events, and I have given money towards the campaigns held in past years. I have now made the commitment to be a sustaining partner. That is how strongly I feel about Handbell Musicians of America.
I am now a member of the National Board, hoping that I can give back to this organization just a bit of what it has given me. I would ask that you thoughtfully consider your support for Handbell Musicians by donating today. Your financial support is vital to the ongoing programs of this organization. Be In!
Linda Minnotte
---
Join Linda with your gift of $30 or more and help us continue to provide training and educational events for both new and seasoned new handbell directors and musicians and develop new resources for handbell musicians at all levels of skill and experience.
How to Help
Membership dues cover just our basic operational expenses. In order to continue offering robust resources, educational events, Overtones, and other member benefits; or to develop new services and tools for all handbell musicians, additional contributions are needed. While gifts of any amount are welcomed, consider how donations to the general fund can support our mission:
$50 helps with the creation of a single MemberChat or MemberNote
$120 provides membership and resources to a school to add handbells/handchimes to their music curriculum
$150 supports the development of a new online education resource
$200 funds one Back to Bells workshop for 10 people
$500 will help us create new, portable events that members can offer in their own communities
$1000 allows us to live-stream performances from National Seminar
Thank you for your continued support and commitment to uniting people through the musical art of handbell and handchime ringing.
Read More "Why I'm IN and Why I GIVE" Stories