from Linda McKechnie
Consider the day a new music director learns they will soon be leading the handbell choir. Where do they turn for training and support? Read the story of how Honorary Life member and past president, D. Linda McKechnie faced this challenge and why it has led her to pledge her support to the Guild.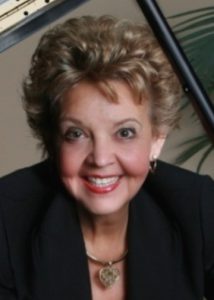 It has been over 40 years since I joined the Guild. Having just accepted a staff position at a large church to direct 3 handbell choirs and 2 children's singing choirs, I looked for advice on how to ring a bell and what to do next!! In a panic, I attended a handbell workshop within driving distance and was excited to learn about a new instrument.
It didn't take long to attend Area 9 events, become area chair, attend national festivals, publish handbell music, become a national board member, and ultimately become president in 1987. Throughout these years, I gained many new friends, and celebrated change in the Guild's outreach- from Special Needs groups and children's choirs to the advanced Bronze ringers and Community groups!
I also realized that our membership fees did not begin to cover all that the Guild staff and board do. I give on a regular basis because I want to support the education and enrichment of ringing handbells in my community and around the world. I choose to be "IN."
Linda McKechnie
---
Join Linda with your gift of $30 or more and help us continue to provide training and educational events for both new and seasoned new handbell directors and musicians and develop new resources for handbell musicians at all levels of skill and experience.
How to Help
Membership dues cover just our basic operational expenses. In order to continue offering robust resources, educational events, Overtones, and other member benefits; or to develop new services and tools for all handbell musicians, additional contributions are needed. While gifts of any amount are welcomed, consider how donations to the general fund can support our mission:
$50 helps with the creation of a single MemberChat or MemberNote
$120 provides membership and resources to a school to add handbells/handchimes to their music curriculum
$150 supports the development of a new online education resource
$200 funds one Back to Bells workshop for 10 people
$500 will help us create new, portable events that members can offer in their own communities
$1000 allows us to live-stream performances from National Seminar
Thank you for your continued support and commitment to uniting people through the musical art of handbell and handchime ringing.
Read More "Why I'm IN and Why I GIVE" Stories