from Linda Krantz
Because I've lived a lot of years, I've learned that our experiences help mold us to become who we are today. When I was a child, I desperately wanted music lessons, but we didn't have a piano and couldn't afford them. And then, when my mom went to work and got us a piano, I was more interested in boys. But I learned to play hymns and church became my primary musical outlet.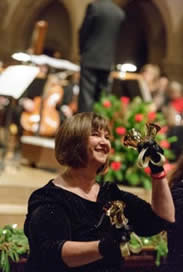 I grew up and had a brief marriage, which gave me a son. I raised him alone and we struggled, oh how we struggled to make ends meet. There was no money for music lessons still.
And then I had a horrific accident, which led to 6 months of many other losses. But through that experience I met my future husband, and this is where my life took a dramatic turn.
I received a nice settlement from that accident, and donated two octaves of handbells to my church. I had seen them at a church I had visited years before and was captivated by them. I donated those handbells because I wanted to learn how to play them.
If it weren't for the Guild, how could I have met all of the incredible people that I've become friends with through this organization? Where would I have learned that there was such a thing as traveling four-in-hand? Where would I have seen the amazing groups that come and perform at our events? Where would I have had Master Classes for burgeoning soloists? And the list goes on….and on…
I support the Handbell Musicians of America, not only through my time and my talent, but also my treasure. I believe in its vision and I want it to be here long after I am gone, so that those who follow in my footsteps might also know and appreciate the opportunities that the Guild provides for us.
Because if the Guild is not here…then what???
Linda Krantz
---
Join Linda with your gift of $30 or more and help us continue to provide training and educational events for both new and seasoned new handbell directors and musicians and develop new resources for handbell musicians at all levels of skill and experience.
How to Help
Membership dues cover just our basic operational expenses. In order to continue offering robust resources, educational events, Overtones, and other member benefits; or to develop new services and tools for all handbell musicians, additional contributions are needed. While gifts of any amount are welcomed, consider how donations to the general fund can support our mission:
$50 helps with the creation of a single MemberChat or MemberNote
$120 provides membership and resources to a school to add handbells/handchimes to their music curriculum
$150 supports the development of a new online education resource
$200 funds one Back to Bells workshop for 10 people
$500 will help us create new, portable events that members can offer in their own communities
$1000 allows us to live-stream performances from National Seminar
Thank you for your continued support and commitment to uniting people through the musical art of handbell and handchime ringing.
Read More "Why I'm IN and Why I GIVE" Stories