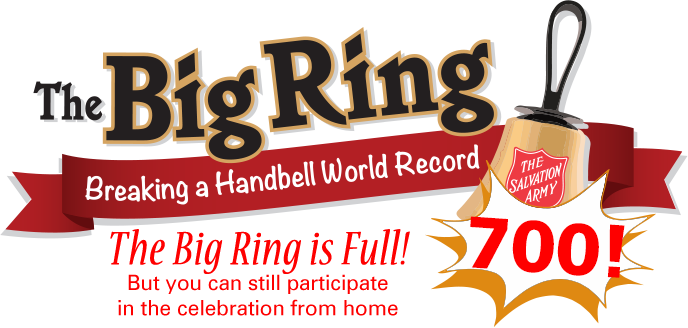 Handbell Musicians of America is partnering with The Salvation Army and the Mall of America in Minneapolis, Minnesota, to break the Guinness World Record for the largest performing handbell ensemble and we need YOU to help us do it!

Join other handbell musicians at the Mall of America at 11 a.m. CST, on Saturday, November 19, and help us make history.  Participate with your full choir, partial choir, or as an individual.  There is just a small registration fee ($5.00/person) which will cover the cost of music.
REGISTRATION IS NOW FULL.  WE ARE NOT ABLE TO ACCEPT ANY ADDITIONAL PARTICIPANTS.
But you can STILL help participate in the celebration from home.
We've reached our goal for The Big Ring! We have 700 musicians registered to help us break that handbell world record at the Mall of America on November 19.
Not able to join us in Minneapolis?  You can still participate in the celebration by supporting Salvation Army Red Kettle locations in your home town on November 19. Contact your local Salvation Army and offer to send your choir to one or more of their Red Kettle locations to ring and support their cause. You can find locationsHERE.
There are many arrangements of holiday music available that can be rung in-hand, without tables.  Contact your preferred handbell music retailer for suggestions or search publisher websites for ideas.  You can find a complete list of handbell music retailers and publishersHERE. You may also contact us at the national office, and we'll help you find music that will work for your group.
If your choir will be supporting a local Red Kettle campaign, please let us know by emailing us at [email protected].  Tell us your choir name, the church or organization you represent, and where and when you will be ringing.  We'll share a complete list of those participating around the country on our website and Facebook page in November.
We have commissioned Hart Morris to write a special arrangement of Silver Bells and Carol of the Bells just for this occasion.  Due to the nature of the performance space, everyone participating will be required to carry their bells in-hand and to memorize their part.  There will be no space for tables or music stands.  In addition, participants should be prepared for non-traditional bell assignments and must follow the part assignments we will provide.  This will help us ensure that we meet the strict criteria set forth by the Guinness World Record association so we can achieve the goal of setting a new WORLD RECORD!
Other information you should know prior to registering for this experience:
We need a minimum of 600 ringers to break the current world record and have a limit of no more than 700. Please register today to secure your spot.
Those attending as a full or partial choir will be expected to bring their own bells.
Individual ringers assigned treble parts may be asked to bring their own bells as well.
Both handbell and handchime groups will be accepted and counted toward the total.
All participants will need to report to the Mall of America by 9 a.m. CST on November 19 for check-in, set-up, and rehearsal before we move to the Mall of America Rotunda for the performance. Exact details of where and how to check-in will be sent to those registered closer to the event.
Details regarding dress for the event are still being worked out. We will provide either a t-shirt or scarf for everyone to wear, depending on sponsorship funding that is secured.  We are requesting your t-shirt size as part of the registration just in case we are able to get funding to provide one.
Coming from out-of-town to participate?  The Mall of America has secured discount rates at several hotels in the area.  See a complete list of the options below.
Detailed ringing and floor position assignments will be sent along with the music before October 1. All music will be provided as a PDF download that you must print yourself for rehearsal and memorization.  We will provide rehearsal tips and tools for memorization as well as one-page score guides that can be used on site to assist.
Please only register if you are certain of your ability to attend and participate in the event. It is important that we have accurate participation numbers as we plan for the world record attempt.
Membership in Handbell Musicians of America is not required to participate, however, you will be asked to log in to an existing account or create a new account before registering.  The link to create a new account is toward the bottom of the login page. An account in our system is not a membership, we simply need this information to track your event registration.
Discount Hotels
Hotel
Phone
Price/night
Reservation Link
Radisson Blu
(attached to Mall of America)
952-881-5258
$159
Reservations
JW Marriott
(attached to Mall of America)
612-615-0100
$159
Reservations
TownePlace Suites
952-540-4000
$129
Reservations
Radisson Hotel Bloomington by Mall of America
952-854-8700
$129
Reservations
Courtyard Marriott
952-876-0100
$99
Reservations
Hilton
952-893-9500
$89
Reservations
The Salvation Army in the Twin Cities
The Salvation Army is a safety net for thousands of people in the Twin Cities of Minneapolis and St. Paul, Minnesota. They provide food, housing, financial assistance, youth programs and more, to anyone who needs them, without discrimination. With help from their generous donors and volunteers, they serve about 187,000 people in the 10-county metro area. The Salvation Army is a global Christian organization founded more than 150 years ago in London, England.
The Salvation Army's six areas of service include:
Basic needs  Including food, clothing, shelter, financial assistance and transportation
Youth services  Everything from day care, summer camps, after school programs, sports and music, Bible study
Disaster relief
Housing We provide both temporary and long-term  housing for youth and adults
Rehabilitation We offer free or low cost drug and alcohol rehabilitation in our faith-based programs
Counseling  We provide assist with everything from learning life skills, to finding a job or connecting with needed resources. We counsel in prisons, assisted living facilities and in all of our centers
The Salvation Army began operations in the Twin Cities in 1886, six years after coming to America. The organization was founded in London, England by William and Catherine Booth in 1865 and now has centers in more than 120 countries.
Salvation Army North | Salvation Army North Facebook Page
The Mall of America
Mall of America® is located in Bloomington, Minnesota—only 15 minutes from downtown Minneapolis and St. Paul. As one of the most visited tourist destinations in the world, Mall of America features—520 stores, 50 restaurants and attractions galore, including Nickelodeon Universe®, the nation's largest indoor theme park. Plus, there's no sales tax on clothing or shoes!