What is Reaching for Bronze?
Reaching for Bronze is an event for the intermediate handbell musician who aspires to become a bronze-level ringer.
Have you wanted to apply for Distinctly Bronze but worry you are not yet at the skill level to be accepted? Then this is the event for you. Scheduled concurrently with Distinctly Bronze East, this event will give participants the opportunity to learn three pieces from the DB East repertoire list under the direction of master teachers and conductors Fred Gramann, and Brenda Austin performing them with the DB musicians on their final concert. In addition, the Reaching for Bronze choirs will prepare and perform two pieces of their own.
During the event, instruction will be offered in building skills in treble, bass, and battery techniques, as well as improving all aspects of musicianship.
Brenda Austin
Brenda E. Austin is a dynamic and energetic conductor, clinician, and composer, connecting musicians through handbells. She has served as the artistic director of the Detroit Handbell Ensemble (DHE) since 2016. Under her baton, DHE was honored to open the Handbell Musicians of America (HMA) National
Seminar in 2018 and to be the featured concert for HMA's Area 2 2019 Festival in Lancaster, PA, in 2019, Brenda also joined the team at Hope Publishing Company in Carol Stream, IL, as the editor in charge of the handbell catalog. Additionally, she has served First United Methodist Church in Eaton Rapids, MI, as director of music, leading several handbell ensembles, a praise band, and worship, since 2003. She is also active in the community directing children's musical theatre.
Brenda graduated with a Bachelor of Music degree in vocal performance from Western Michigan University and a Master of Music in choral conducting from the University of Missouri – Kansas City. She has studied with Craig Arnold, Steve Zegree, and Eph Ehly.
Brenda is in demand as a handbell clinician throughout the year and has been the conductor and clinician at numerous festivals and workshops including HMA National Seminars and festivals for HMA Areas 4, 5, and 11. Additionally, she has had more than 70 titles published for handbells since 2015.
For more information about Brenda, please visit her website at www.BrendaEAustin.com
Disclaimer: 
By attending/participating, you acknowledge and fully understand the nature and extent of the risk related to the COVID-19 virus and other contagious diseases and agree to attend this event at your own risk. You expressly acknowledge that COVID-19 is highly contagious, infection can result in death, the risk of infection and transmission are higher in indoor facilities, there are no safety precautions that totally eliminate the risk of contracting COVID-19, and individuals with various underlying medical conditions may experience worse outcomes.
Handbell Musicians of America encourages participants to be fully vaccinated against COVID-19. The wearing of masks is optional. We ask that all participants be respectful of each other's choices.
Event Registration
Registration fee is $295 for members**. Unlike Distinctly Bronze you do not need an individual membership. If you are affiliated with a group membership through your church, school, or ensemble you may use that account. 
This includes all rehearsals, polo shirt, link to recording of the final concert, and lunch on Sunday.
No application required; simply answer a few questions on the registration form.  Registration is first-come-first-served.
Space is limited so don't delay in registering.
Participation in Reaching for Bronze does not qualify for Distinctly Bronze Alumni status.
**Login to your member account before registering for member pricing.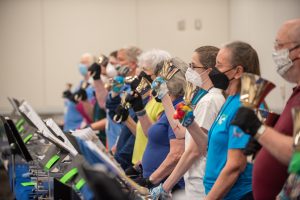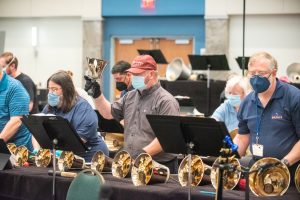 Repertoire
You are responsible for purchasing and looking at the music ahead of the event. Music may be purchased directly from publishers or from any music retailer. Our preferred retailers include: Heitz Handbells & Music, Jeffers Handbell Supply, and J.W. Pepper.
The following will be performed by Reaching for Bronze ringers solo:
The Waiting, Sandra Eithun, Hope Publishing, 2987, Level 3
When the Poor Ones, Kyle Webber, Lorenz 20/2109L, Level 3
The following will be performed with the Distinctly Bronze ringers:
Reconciliation, Brenda Austin, Beckenhorst Press Inc. HB563, level 4-
Champaca, Elizabeth Peters, From the Top Music catalogue No. 20640, level 3+
Fantasy on Liverpool, arr. Fred Gramann, Choristers Guild CGB815, level 4
Tablet Policy
Handbell Musicians of America is committed to upholding the copyright laws of the United States and protecting the rights of our publishers, arrangers, and composers. If you wish to use a tablet computer to hold your music in place of standard paper copies on a music stand, you must contact the publisher of each piece of music to first obtain permission to convert a purchased piece of music to the format required for the tablet you are using. Copies of the written permission received from publishers must be presented on request from the event organizer, event chair, or Handbell Musicians of America staff. Permission from a publisher for one piece does not imply permission for other pieces from the same publisher. The title of each piece used in this format must be included in the written permission received. Attendee should also have legally purchased copies of all music with them for verification. Titles originally purchased in a digital format do not require permission from the publisher, however, please have a copy of your purchase receipt available.
Event Schedule
Thursday, February 23
Distinctly Bronze East
Reaching for Bronze
9:00 AM–12:00 PM
Load-in and set-up
 
12:30 PM–2:00 PM
Distinctly Bronze registration (lunch on your own)
 
2:00 PM–2:30 PM
Welcome announcements for ALL RINGERS
 
2:30 PM–5:00 PM
Rehearsal (break 3:45–3:55pm)
 
5:00 PM–6:00 PM
Provided dinner
Optional: join for dinner
6:00 PM–8:00 PM
Rehearsal
Optional: observe DBE rehearsal
 
 
 
Friday, February 24
 
 
8:30 AM–9:45 AM
Rehearsal
8:30 – 11:00 Registration and rehearsal
9:45 AM–2:00 PM
Treble (D5–C9) free (lunch on your own)
 
10:00 AM–12:00 PM
Bass (C2–C5) sectional
11:15-12:00 Skill Building Session
12:00 PM–4:20 PM
Bass free (lunch on your own)
12:00 – 2:00 lunch on your own
2:00 PM–4:00 PM
Treble sectional
Rehearsal upstairs
4:20 PM–7:00 PM
Rehearsal (break 5:50–6:00pm)
4:15-5:00 Skill Building
5:00 – 7:00 rehearse with DBE
7:00 PM
Dinner (on your own)
Dinner (on your own)
 
 
 
Saturday, February 25
 
 
9:00 AM–12:00 PM
Rehearsal (break 10:30–10:40am)
9:00-10:30 Rehearsal with DBE
10:45 – 12:00 Skill-building/rehearsal
12:00 PM–1:30 PM
Lunch (on your own)
Lunch (on your own)
1:30 PM–6:00 PM
Rehearsal (breaks 3:00–3:15pm & 4:45–5:00pm)
Rehearsal upstairs
6:00 PM
Dinner (on your own)
Dinner (on your own)
 
 
 
Sunday, February 26
 
 
9:00 AM–11:30 AM
Rehearsal (break 10:15–10:25am)
Rehearsal upstairs
11:30 AM–12:30 PM
Provided lunch & closing announcements
Provided lunch & closing announcements
12:30 PM–1:00 PM
 
Solo rehearsal in ballroom
1:00 PM–3:00 PM
Final rehearsal
Final rehearsal
3:00 PM–4:00 PM
Final concert preparation (dress & free time)
Final concert preparation (dress & free time)
4:00 PM
Concert
Concert
approx. 5:45 pm
All-hands teardown (pack and load-out handbells and other equipment)
All-hands teardown (pack and load-out handbells and other equipment)
Lodging
New Bern is home to many Bed and Breakfasts, as well as a Courtyard Marriot and Double Tree within walking distance to the Convention Center. We encourage you to make your housing reservations early. For this event we do not have any arrangement with either hotel. Click here for a list of options.
Cancellation Policy
This policy applies to refunds for ANY reason, including medical, family, and business. This policy applies even if we fill your slot with another ringer. If you desire, you can receive access to the Distinctly Bronze East/Reaching for Bronze 2023 recording at no charge if you cancel.
Payment in full is required to enter your registration and is refundable only when a first-time applicant is not accepted.
Fee refunds minus a $100 cancellation penalty will be made for written or email cancellations received by December 20, 2022. Cancellations received by January 21, 2023 will be refunded 50% of registration fee less cancellation penalty; after February 1, 2023 registration is not refundable. The date of cancellation will be the date the cancellation is RECEIVED in the national office by the event registrar, Marie Clyatt-Larson ([email protected])