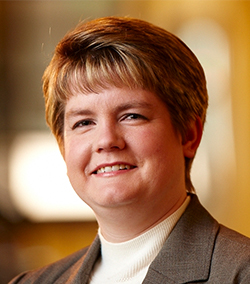 Tracey Bowers started ringing bells over 30 years ago in grade school. She continued ringing throughout high school and college joining the Alleluia Ringers at Concordia University Wisconsin under the direction of Dr. John Behnke. After taking a master class in handbell conducting, Tracey directed a local church handbell choir for a number of years. While gaining the experience of conducting, she prefers to be behind the table ringing the bells and making music.
Tracey has been able to continue ringing as a founding member of the Milwaukee Handbell Ensemble (MHE). As part of MHE, Tracey has rung for many years with the Milwaukee Symphony Orchestra for their Holiday Pops concerts. Her handbell ringing has taken her across the US and around the world to five other countries. While ringing with MHE, she rang in the closing concerts for the Area 7 conference in Sioux Falls, South Dakota, in 2016 and the HMA National Conference in Grand Rapids in 2018. Tracey has also rung in the All-Star choir at national conference and has been ringing in Distinctly Bronze for the past few years. Tracey has also been ringing trio music with two other MHE ringers and really enjoys the challenge that brings.
Tracey was instrumental in getting MHE organized as a non-profit organization. She has been able to use her business background leading MHE as president from 2011–2015 and 2017 to the present. Tracey is an accounting manager at a private company in Milwaukee, Wisconsin. She also enjoys planning events such as festivals and workshops.
Tracey shares her passion of handbells not only by ringing, but also by leading classes at the local workshops and the Area 7 Conferences where she will again be teaching in June 2020 in Duluth, Minnesota. Tracey recently earned "Handbells in the Community" certification and plans to earn other certifications through the HMA certification program.
What is your vision for Handbell Musicians of America?
Tracey's vision for Handbell Musicians of America is to make sure that any handbell musician, regardless of skill level, has access to the resources they need to improve their skills and excel in the musical art form of ringing handbells. This includes grade school youth all the way to our senior citizens. Resources are available not only for the ringers but also the directors, such as the certification program and various ringing events. Tracey would like to see more specific resources available for those individuals who may be thrust into directing a handbell choir simply because they know music, though they typically have very little experience with handbells themselves. Handbells are a wonderfully unique instrument that can be played using so many many different techniques. A new handbell director will likely not know more than the basic ringing techniques, which will lead to missing out on the much of the greatness of this instrument.
Additionally, what expertise and experience will you bring to the Handbell Musicians of America board of directors?
If chosen to be on the national board of directors for Handbell Musicians of America, Tracey will use her accounting and business knowledge to assist the board and the organization to run smoothly and offer insight when needed.