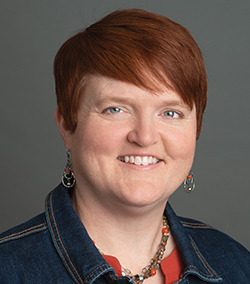 Lori started ringing over 35 years ago in her church. She is a founding member of Des Moines Concert Handbells and the board vice president. She serves as Area 8 treasurer and is a former Iowa chair. Lori continues to be an active ringer, participating in several advanced ensembles, including Virtuoso and Distinctly Bronze. Lori is also an accomplished vocalist. She sings with the Des Moines Vocal Arts Ensemble and is Treasurer and a past Board President of three years. She is on her church Board of Music and Fine Arts and serves as the alto section leader for the Chancel Choir. With a BA in Accounting from Buena Vista College, Lori works in the life insurance industry. Outside of work and music, Lori loves to travel, listen to podcasts, and is a cat mom.
What is your vision for Handbell Musicians of America?
Over my 35 years of ringing bells, I have evolved as a ringer just as handbells has evolved. Our governing body has also evolved, most notably from AGEHR to HMA in 2010. My vision for Handbell Musicians of America is of a vital, growing organization with an opportunity to bring the joy of our music to generations that will follow. Focusing our efforts on three key areas will strengthen our organization and ensure it achieves this vision.
Money. We are dependent on memberships, member donations, and event registrations. As income for these sources decreases, we must find new income streams. I help lead another non-profit arts organization that has successfully grown their funding from grants and corporate donations to become 25% of their revenue.
Membership. Our members are the lifeblood of our organization. Just as there is no single reason for declining membership, there will be no single solution. We live in a world where all our members, current and future, face increasing demands for their time, attention, and resources. Together with our board, we must determine how to effectively use OUR resources to provide value in exchange for MEMBER resources. We must also evolve our membership base to reflect our changing communities.
Music. Our organization can play a leading role building awareness of the next generation of contributors and in expanding the reach of new artists. There is some amazing talent in the pipeline. If they lack the name recognition and the tenure, we run the risk of overlooking their compositions or abilities as a conductor. As a ringer, I just want to play music that moves me and I want to ring for someone who inspires me to be a better ringer. It is critical that we cultivate an environment where our newest talent can flourish.
Additionally, what expertise and experience will you bring to the Handbell Musicians of America board of directors?
In addition to my vision for HMA, I have significant experience that can contribute to our success. Years of non-profit leadership experience represents hard work with diverse groups of people to manage limited financial and human resources responsibly while creatively solving problems unique to the non-profit world. If elected to this role, I would also bring my professional background as an auditor and accountant. In my 25-year career, I have developed a strong financial acumen, critical thinking skills, and an appreciation for a robust governance and control structure. I am passionate about the instrument that we all love and I am excited to have the opportunity to serve all of you in such a critical role.