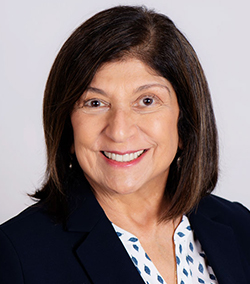 Having grown up as one of Jake Malta's two daughters and around many types of bells for all my life, I took a rather circuitous route from my college education back to the handbell industry. Upon graduating from high school in 1971, I pursued an education at the University of Delaware as a registered nurse and in fine arts; however, after graduating college, I began working at my father's business in 1976, learning each part of Malmark's manufacturing business over the next several decades. There was a gap in my employment at Malmark when I left to provide family caregiving, but I was only away from the building and not away from the business. You might label this both serendipitous and providence.
Early in Malmark's history, I began teaching maintenance classes and that is where you will find me still when I attend handbell events. Most of my time is spent at the plant where I like to think that I present myself as approachable, welcoming, and considerate of any suggestions, questions, and comments from our employees. Just as in nursing, I have found listening to be key to the doctor/patient/company's needs. We have set goals, implementing ideas from our people while periodically evaluating our progress. In assessing the outcome we occasionally have found we need to set shorter-term goals to attain the long term positive outcome. Perhaps what I find most important is the need to recognize and own when you are on the wrong track before traveling any distance.
What is your vision for Handbell Musicians of America?
My vision for Handbell Musicians of America is one which will address the needs of not only its current members, but those of the future, as well as of those members we have lost. HMA may be an organization that provides value to a greater scope of people than to which it is currently geared. This mandates the need for communication that is open and non-judgmental. We need to brainstorm, we need to work together as musicians, as musicians who are running a business, and as business owners and operators. In other words, we need to harmonize in all senses of the word to initiate positive change.
Additionally, what expertise and experience will you bring to the Handbell Musicians of America board of directors?
Surrounding myself with those who knew more than I has been unendingly helpful. My education in running a business and in handbells came directly from my dad and through the interactions I had and have with those directors and ringers whose input affect our business and the handbell world. As in most family-owned-and-operated businesses, you "eat, drink, and sleep" the business, which describes the Malta family interactions fairly accurately. The key, I found again, is to be a good listener and know what you do not know.