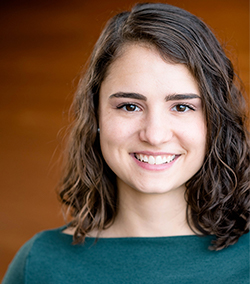 Gillian Erlenborn has been serving as the handbell choir and children's choir director at Middlebush Reformed Church in Middlebush, New Jersey, since 2013. She is also the Choral Director and Musical Theatre Teacher at Frelinghuysen Middle School, in Morristown, New Jersey, teaching over three hundred students from diverse social and economic demographics. Gillian graduated from Westminster Choir College in 2018 with both a Bachelor of Music in Music Education and a Master of Arts in Teaching.
Gillian began ringing under the direction of Shelley Giaier when she was in the third grade and has not put her bells down since. In high school, she rang with and was assistant director for Impulse Handbell Ensemble. Upon entering Westminster Choir College, Gillian rang in and became the graduate assistant of the Westminster Concert Handbell Choir under the direction of Kathy Ebling Shaw. She has enjoyed participating and volunteering in various national and area events, including serving as the event chair for the annual College Ring-In. Gillian's energy and unique perspective of the world of handbells makes her a strong candidate for a role on the national board.
What is your vision for Handbell Musicians of America?
My vision for Handbell Musicians of America is a wider sphere of influence. The needs of our members are diverse and HMA does a great job of meeting them. I hope to support the work that is done annually for our members as well as find new ways to meet our community's needs. However, in terms of the goals of the organization's policies and financial state, we need to take immediate action. It is clear that our membership needs to grow so that HMA can continue to support the amazing events and opportunities that we are currently producing.
All of us reading this know of the amazing benefits of handbells in a person's musical education. Handbell usage in the classroom has been the magic wand of music literacy for me and so many others! HMA should be taking on a proactive role in encouraging educators to use handbells in the general music classroom and to create their own handbell programs. HMA should be present at state and national music education conferences, forming relationships with music education organizations so that we can grow the prevalence of handbells in schools. More handbell programs will provide more potential members who will help sustain the opportunities that HMA already offers. They will also necessitate new opportunities for budding programs in churches and schools. If we are able to cast our net wider by getting handbells in more hands, I believe we can increase membership and find ourselves in a more sustainable financial state.
Additionally, what expertise and experience will you bring to the Handbell Musicians of America board of directors?
I am an educator in both the church and public school classroom. I believe strongly that my vision for HMA as such will secure the organization's financial wellbeing and membership. My experience in leadership is extensive, as I have served on several strategic planning, hiring, and non-profit boards and committees. I bring a unique perspective to the table as a young voice, and I think that diverse leadership is a necessary characteristic to any successful organization.