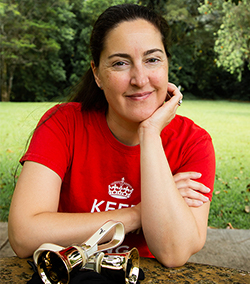 Becky is co-founder of Honolulu Bronze, a community-based handbell ensemble. She started ringing at age five and has rung in church groups in five states as well as several non-profit, auditioned community handbell choirs. Becky has performed solos, duets, and ensembles in multiple churches on Oahu and the mainland.  She enjoys teaching and sharing her handbell passion with the church bell choir she directs.  Becky works as a Nurse Practitioner and a Lecturer of nursing at Hawaii Pacific University.
What is your vision for Handbell Musicians of America?
Inclusion is important for Handbell Musicians of America. Individuals in under-represented groups need to feel represented and included in our events and programs. I would champion creating greater inclusion and expanding our base, focusing more on those under-represented groups. While a large part of our membership is church musicians, we cannot exclude those outside of the church. We should cultivate members beyond the church. We have young, talented, enthusiastic handbell musicians. Their voices need to be heard and recognized as the future of the organization. We must think "outside the box" and promote our message in unconventional ways. Creating a strong team encompasses leadership with diverse talents and strengths such as a visionary, a worker bee, a detail person, a creative person, a person with great networking skills, etc. The larger our resource pool, the more from which we have to draw these talented individuals. I believe in data-driven decision making by utilizing our membership database to make effective choices about the direction of the organization. We need to find innovative ways to determine barriers to maintaining our membership numbers. Are the mission and values of the organization disseminated effectively amongst the members? Do the Area's mission and values stem from the overarching ones of the national organization? Part of determining where we are going depends greatly on answering some of these fundamental questions. Passion for handbells is what brings us together. We all have different backgrounds but handbells is the glue that binds us all together. We need to capitalize on that passion to ensure that our goal of being united in our art continues into the future.
Additionally, what expertise and experience will you bring to the Handbell Musicians of America board of directors?
As a Nurse Practitioner and professor, I mentor students toward improved patient outcomes through evidence-based practice. I train nurses to be leaders focusing on systems thinking for process and quality improvement. My Doctorate of Nursing Practice curriculum focused on organizational theory and project management in order to grow nurse leaders for roles such as Chief Nursing Officer or Chief Nurse Executive. Nurse Practitioners examine patient data, diagnose problems, plan goals and interventions to meet those goals, and evaluate outcomes. Data-driven decision making combined with compassion, empathy, and mutually derived goals leads to successful solutions. I am the chair of the Master of Science in Nursing Committee where I direct activities including curriculum, program evaluation, and admissions. I plan to approach HMA in a similar manner: listening with an empathetic ear, valuing diversity, meeting people where they are and building consensus, and moving the organization forward toward mutually defined goals.