Kathleen Wissinger – Candidate for At-Large Director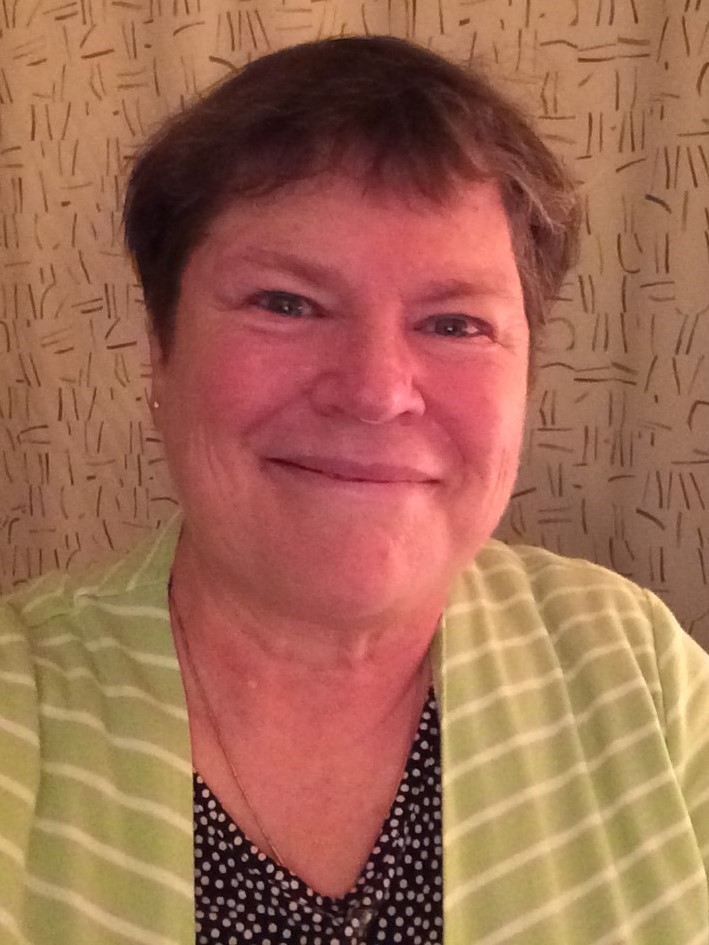 Kath is all about the bells…and bell people! Known for her creative teaching style, clear directing and engaging compositions, she has led scores of events across the US and in Canada and Japan. She started ringing in high school, and her first directing experience was at her church with youth and teens, which turned into an almost 30-year gig. She also taught handbells in the classroom for 5th-8th graders for 18 years and presently directs Gloria Dei (an adult church group) and Mosaic Handbell Ensemble (an advanced non-profit community group).  Long an outspoken cheerleader for the Guild, Kath served on the Area 3 Board for 8 years and currently coordinates both the A3 CHIME Loan program and the Handbells in Education column in Overtones. Her publishing company "ringTrue Handbell Music" offers a wide swath of well-crafted music from L1 to L5, solos to multiple choir pieces.  A former National Park Service Ranger with a degree in geology, she lives in the beautiful Shenandoah Valley of Virginia where she teaches piano lessons and makes world-famous bread & butter pickles, baklava and sour dough bread. Contact her at [email protected]
What past work experience(s), education and/or leadership position(s) have you had that you would bring to the National Board?
My philosophy:
The inclusivity of ringing is one of my favorite aspects of this art form. Every ringer counts!! Fourth graders play chords and learn theory while skilled musicians challenge themselves beyond imagination – using the same high-quality instruments and making beautiful music.
Encouragement, patience, high expectations and clear leadership with humor and empathy are my signature attributes when working with ringers of all levels. I want ringers to know they are valued and to understand and absorb the beauty and magic of well-crafted compositions, so they put their whole heart and being into the music.
My background:
Music background – I studied classical piano through high school accompanying my friends for auditions and contests, played bassoon in the orchestra, sang in the chorus, played handbells at church, attended choral camp at Westminster Choir College, sang and played guitar in folk groups in high school and in a duo called "Nightengael" in college (writing many of our songs).  I have taught piano lessons for 30 years.
Environmental Education/Park Ranger – My degree in geology ('78 Miami U. in Oxford, Ohio) led me to teach environmental education to 3rd-12th graders from the 5 boroughs of NYC in a 5-day residential camp called "Nature's Classroom" in Connecticut; on to Acadia National Park with The Student Conservation Association; and then to Shenandoah National Park as a Ranger-Naturalist. All this time I leading walks and talks, developing informational programs and leading singing at evening programs, playing guitar. I also taught Elder Hostel Sessions for many years (some intergenerational) with topics ranging from Geology to Basketweaving. And speaking of weaving, I also ran a business "Reed & Bobbin" for many years selling my hand weaving.
Youth handbell director – In the late '80s, I started a youth group at our church and directed it for almost 30 years. I started writing handbell music for these hot-shot ringers (including pieces like Broken for You, A Large Day and Jazzin'). We toured each semester, played for FirstNight concerts, recorded CDs and played for 5,000 in a PCUSA General Assembly.
Handbell teacher in school – I retired in May 2022 after 18 years of teaching handbells in a classroom setting at a small private school for 5th to 8th grades (and KG-4th general music for a few years as well). Each class performed an outreach concert every semester, and we hosted an annual weekday school handbell festival for 12 years.
Curriculum development – Based on my church youth group and school experience I developed "Square One" – a series of teaching units with exercises and etudes covering Level 1 skills for my new ringers each year.
Composing/Publishing – My first 2 pieces were published (by AGEHR!) in 2001. Over the years, major publishers released 80 of my compositions ranging from Level 1-5; solo, duet, small ensemble, 2-3 oct. and 3-5+ oct. choirs. As I prepared to release "Square One," I started my own publishing company ringTrue. Currently I have about 250 total pieces in print, including commissions, hymns, pedagogical works, multiple choirs, belltrees, vocals and more.
Guild Leadership/Event Planning – I served on the Area 3 Board for 8 years – acting as Festival Chair, Program Chair, teacher and mentor. I wrote and co-produced a promotional video for Area 3 (you can see it on the website), re-instituted the Area 3 Composition Contest and explored revising the organizational governing structure of Area 3. I continue to chair the CHIME Loan program for Area 3 and am on the planning committee for "Into the Forest" – a focused belltree event.
Event Director/Clinician – I have directed and taught at scores of a wide range of ringing events:
Introductory experiences; teacher training; school conferences; church workshops; week-long music conferences; college ringers; advanced ringing workshops; director workshops; regional, area, national and international festivals
2nd-4th graders, grade schools, middle high youth, teens, college ringers and adults
Tins, Coppers and Bronze divisions
Massed Ringing for up to 750 ringers, small workshops for 10-20 ringers; one-on-one coaching sessions for solo ringing
Classes for ringers, composers and directors – Some of my signature classes include: Mastering Mixed Meter, Syncopation Anxiety, Add Bells and Stir (Processionals), Unison Exercises, Putting Pizzazz in Your Performance, Techniques A-Z.
Directing/Ringing –
I am founding Artistic Director of Mosaic Handbell Ensemble, celebrating 12 years together. We just attained non-profit status this past year. We perform 4 concerts each semester – and have played with the local choral society, in hospitals, for our local thermal shelter, on school playgrounds, in a maximum-security women's prison and at FirstNight events. While I lead rehearsals, I also ring with Mosaic, and we perform "directorless."
I also direct an adult group, Gloria Dei, at Muhlenberg Lutheran Church (we play in all services once per month, 3 pieces).  I ring with Gloria Dei if we need extra hands.
Graphic Arts/Marketing – In high school I worked in a graphic art studio (silk screen and letterpress) – and currently design covers for ringTrue releases as well as marketing ringTrue, Mosaic and church campaigns for stewardship, a capital campaign and endowment programs.
Technology – Covid "invited" me to teach online for Spring 2020 semester – so I learned how to organize and present online lessons for my ringing classes. My church group recorded live session outdoors and remote audio clips in synch which I edited together for online worship. Mosaic recorded videos of pieces, which I edited together for online concerts. I have learned how to use Audacity, an audio editing app, and the video editor on my computer (an example is my Introduction video).  And, like most of the world, I learned how to Zoom, for meetings and teaching workshops.
Administration – All handbell directors – church, school or concert – know there are many facets to keeping a single ensemble on track. One crucial goal is to keep your ringers engaged and challenged. Another is to manage all the details of equipment, schedules, repertoire, rehearsals, budget, marketing, media, programs, venues, attire, grades/attendance, auditions, subs and performances. I have had as many as 6 different groups with 75+ ringers and 15 performances to organize and take care of in one season. My class "Organizing Your Ringing Year" is based on my expertise in this area. Now that I am retired from teaching and have Mosaic's Executive Board to report to, my life is much less complicated! Currently, I am the chair of the Legacy Committee at church which is tasked with creating an endowment program.
Writing skills – In addition to writing and producing "Square One," I also coordinate, edit and often write articles for the "Handbells in Education Column" in Overtones. I have long had an instinct for putting words together in songs and hymns.
Guild training – I love to attend classes, even when I'm teaching at an event, especially in my strength areas, because I always learn something new. I've studied directing with David Davidson and in the Master Directing Class with Bill Payn.  I've also studied composition in the Master Composing Class with Arnold Sherman and with many other composers at events – and Music Theory with Marilyn Kielnarz.
Asking "Why not?" and "What if?"  – I am not afraid to ask "Why not?" when a change is needed. And my mind buzzes with "What if?" possibilities for handbells to shine in new places and new ways.
How do you view the present status of HMA and what are your thoughts for the future?
We need to reaffirm that every ringer counts and that every one who aspires to be part of this remarkable community is welcome.
We have stellar community and professional organizations that are proving that handbells can shine center-stage in major venues and entice audience loyalty.
We have active church programs that serve as valuable contributors to the worship experience (both in person and online), as havens for dedicated small group relationships, and as opportunities for personal growth for each ringer.
We have training programs that encourage ringers, directors and composers who want to improve their skills.
We have vibrant school programs that immerse young musicians in theory, composition and hands-on personal experience making music that matters and that makes sense to them.
We have ensembles and events that entice high school and college ringers to continue this exciting journey – and programs in retirement homes for ringers to continue making music.
We have thoughtful and exciting composers who propel our voice to the world.
We have a vibrant business community that supports every aspect of our ringing world.
We have a true village of people, in all their diverse glory, that shares a passion for this captivating realm of musical expression and personal connection – two powerful forces poised to reach beyond our padded tables, gather more people in and change the world for the better.
Why do you want to be a member of the National Board and, if elected, how do you see your role on the board?
To paraphrase Tennyson – "I am a part of all that I have met" including each person I have studied under, rung alongside, traveled with, learned from, worked and laughed with, directed and taught. Most of what I know about handbells, I've learned through Guild experiences and relationships. My hope is to apply this wealth of inspiration and experience using the gifts I have as educator, composer, ringer, director, mentor, clinician, administrator, graphic designer, writer, business owner and innovator.
One of my heartfelt issues is keeping the Guild healthy both as a vital arts organization and a strong financial entity. Growth in membership depends on offering a wide range of services and worthwhile experiences since handbell ringing spans such a diverse population. We are successful –
Every time a ringer leaves a Guild event enlightened, wanting to return the next year;
Every time a ringer or director or composer reaches out and is encouraged;
Every time someone leaves a concert or service inspired by our music;
Every time we reach beyond our own members and collaborate with another entity.
We need to make sure these successes happen frequently and reliably throughout our organization.
The Guild can showcase handbells' worth in a school curriculum and intentionally grow this amazing facet of music education by putting our best and brightest handbell educators on the front lines to meet teachers and administrators where they are and to supply them with training and professional development, mentors, equipment and music. This is where the future of handbell ringing is nurtured. By encouraging the use of handbells in schools and continuing ringing opportunities for upper school and college students, we are growing a new generation of ringers.
We have an intriguing, beautiful, sparkly and showy instrument that welcomes seasoned musicians and novice experimenters; budding arrangers and top-notch composers; self-taught directors and revered maestros; entrepreneurs and inventors; and pretty much anyone who is willing to lug bell boxes back and forth!!   We daily verify the motto that, yes, "Every ringer counts!" and, even more, that "Everyone CAN ring WELL!" at whatever level they hope to achieve if given appropriate guidance and opportunity.
The voting period has ended.
We will announce the results soon.
Thank you!