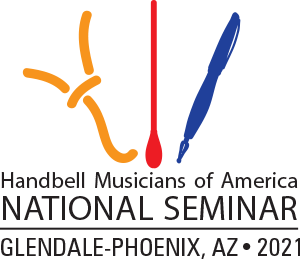 NOTE: Due to the data center outage, which made our website unavailable most of the day Sept. 30, the deadline for submissions has been extended to Friday, Oct. 2 at 10:00 p.m. EDT.
National Seminar 2021 will be Tuesday, July 13 through Saturday, July 17, at the Renaissance Phoenix Glendale Hotel and Spa, in Glendale, Arizona (near Phoenix). We are seeking submissions for classes and faculty to present at the event.  When preparing your application, please note the following.
Application Process & Requirements
Those submitting must have their own individual Handbell Musician Membership or be the primary contact for an organization's Handbell Musician Membership.
Consider all aspects of handbell musicianship in all settings as you develop your class ideas. The committee strives to select a wide variety of classes for all constituencies of our membership. We also encourage innovation and new ideas. However, please make sure any new concepts are fully tested and vetted prior to presentation at National Seminar.
Those submitting more than one class topic will be given priority consideration.
Those interested in teaching at the event must submit a separate Class Submission Application for each class topic/idea they would like to present using the form below. ONLY submissions completed using the form below will be accepted.
Any applicant who has not taught at a National Seminar in the past three years (since Grand Rapids 2018) must provide two letters of reference from individuals who have observed the applicant teaching within the past 2 years. These letters must be sent directly to

[email protected]

by the person providing the reference. The applicant is responsible for ensuring that the required recommendations are received.
Deadline for submission is 5:00 PM EDT, October 1, 2020. Applications will be reviewed by the selection committee in October, and those selected will be notified in November. Selected faculty may not share their selection for the event until it is officially announced by Handbell Musicians of America.
Class sessions at National Seminar are 75-minutes long. Topics may be offered as single classes or multi-session courses.  Single-session classes will usually be offered twice in the schedule during the event.  Multi-session courses will only be offered once in the schedule.
All faculty will be required to undergo a background check and agree to the Handbell Musicians of American Youth Protection Policy.
Questions regarding the process should be directed to [email protected].
Faculty Terms & Compensation
Selected faculty will be compensated as follows.  Please review and consider carefully before submitting your application.  Submission of your application implies that you understand and accept these conditions. Accepted faculty will be sent a formal contract with additional terms and conditions.
Local (resides within 50-mile driving distance of the event site) or Out-of-Town Teaching Only ONE Class Topic
$40 honorarium per 75-minute class session taught.
Option to attend classes and concerts during the event at no cost.
Local faculty teaching at least two class topics will also receive Full Event Registration with included meals.
Out-of-Town Teaching TWO or More Class Topics
Up to $425 reimbursement of round-trip airfare to the event.
OR mileage paid at the prevailing IRS charitable rate for miles driven to and from the event up to a total of $425.
One half of a shared hotel room at the official event hotel for each day the clinician teaches a class session at the event. Faculty are responsible for securing their own roommate and making their own hotel arrangements at the conference hotel.
Full Event Registration with included meals.
Application
Note: This is a multi-page application that will require detailed information about the class you propose and the equipment required for that class.  We recommend you prepare your answers for the following questions in a Word document before you begin the application so you can simply copy and paste them into the form.  This will help prevent the form from timing-out and your data being lost before you are able to complete the application.
Questions that may require advance preparation:
Names and contact information for two references.
Information about where the class you propose has been previously presented.
Class Description: A brief description of your class (approximately 100 words).  This will be posted on the event website to encourage attendance and will be included in the event program guide.  Sell the class to potential attendees.
Class Justification: Why should this class be offered at National Seminar?  Sell the class to the class selection committee.
Prepare a complete list of the equipment required for the class.