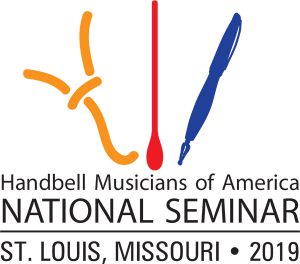 National Seminar 2019 will be July 16-20, at the Hyatt Regency at the Arch in St. Louis, Missouri.  Several performance opportunities are offered throughout the event.  Use this application to be considered for one of the following options:
Feature Concerts:  There will be one feature concert each date of the event.   This concert will feature one performing group or ensemble for a one-hour concert.
Mini Concerts:  One to two Mini Concerts will be scheduled each day.  Performers will present 15-30 minutes of music.
Performance Terms:
Performers will be paid an honorarium, and members of the performing group will receive a 10% discount on event registration.
All performers are responsible for their own travel and lodging expenses.
The event will supply a stage, 6' x 30" tables, and one microphone on a stand. All other equipment required for the performance is the responsibility of the performer, including handbell/handchime instruments, foam, covers, mallets, and any additional instrumentation required for the repertoire.
Special requests for assistance in locating equipment for the performance will be considered, but any additional costs incurred for such equipment will be the responsibility of the performer. All such requests must be submitted in writing in the space provided on this application.
Application Submission Process & Timeline:
Completed applications are due by 5:00 PM EST on October 1, 2018.
Applications MUST be completed using the form below.
Applications sent in any other format will NOT be accepted.
Each application must include a link to a recently recorded (within the past 12 months) video of the performer.
A minimum of 80% of the performers included in the audition video must be part of the performing ensemble at the event.
All video submissions must include a minimum of two selections of contrasting style.
Include live introduction of each piece on the video as it would be presented in concert.
AFTER submitting your application, please send a current photo of the performer in jpeg format and with a minimum resolution of 300 dpi to

[email protected]

.
Applications will be reviewed by the selection committee at the end of October and those selected will be notified in November.
Any questions about the application, video requirements, or selection process should be directed to

[email protected]

.
Audition Video Tips
All selections are made based solely on application and audition video submission. No prior knowledge of the group on the part of selection committee members will be considered in the selection process.
While it is not necessary to provide a professionally produced video, sound and visual quality is important.
A recording of a recent live performance with an audience is preferred, but not required.  Use your discretion to provide a video that presents the performer in the best possible light.
Sound quality is of utmost importance.
Remember, this is your ONE opportunity to impress the committee. Make it count.
Application
Note: This is a multi-page application that will require detailed information about the performance you propose.  We recommend you prepare your answers for the following questions in a Word document before you begin the application so you can simply copy and paste them into the form.  This will help prevent the form from timing-out and your data being lost before you are able to complete the application.:
Questions that may require advance preparation:
Proposed Performance: Provide a description of the type of performance you propose to present at National Seminar.  Include musical style/genre, other instrumentation, etc.
Performer Biography: Provide a condensed biography of the performer (no more than 200 words).
Prepare to provide detailed information about your performance set-up, additional instrumentation, extra performers, etc.