What is Distinctly Bronze?
The massed ringing event for advanced handbell musicians which provides the opportunity to perform on the largest handbell sets available under the direction of Stephanie Rhoades. Four days of rehearsal lead up to a Sunday afternoon concert which is open to the public.
Who Should Attend:
Successful Distinctly Bronze (DB) participants have the following traits:
Committed to learning all of the music on their own. Learning means going beyond the notes – you know where the musical line is and can see/hear the overall picture.
Learns quickly
Understands that the overall musical result is more important than the individual
Has experience with music approaching the difficulty of the DB repertoire (difficulty of at least AGEHR level 4)
Is willing to adapt to a different philosophy of handbell assignments and sharing
Can play a variety of positions, and is flexible about position assignment
Has the stamina, energy and attention for lengthy rehearsals during the 4 1/2 days of the event
Has good rehearsal etiquette – is prompt & cheerful, and attends ALL rehearsals
Has self-awareness to realize when he/she "is the problem" (as in playing wrong rhythm, wrong bell, wrong dynamic, not following the director), and, without prompting or comment from anyone, either remedies the problem or sits out that passage
Understands that ringing is a collaborative effort. All the notes must be rung musically. This may require sharing handbells with neighbors or giving one or more handbells to a different musician for an entire piece.
Is open to constructive comments
Doesn't crumble under performance pressure
About the Conductor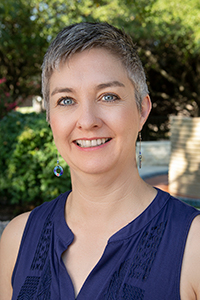 Stephanie Rhoades is Minister of Music and the Arts at Northaven UMC in Dallas and Conductor and Artistic Director of Concert Bells of Fort Worth.  With a reputation as an effective and engaging teacher, she has been a clinician and guest conductor for numerous workshops and festivals across the country, including the Presbyterian Worship and Music conferences at Mo-Ranch and Montreat, Music & Worship Arts Week at Lake Junaluska, Handbell Musicians of America National Seminar, and the Greater Dallas Handbell Association Spring Festival.  She has a long history of serving on local and area boards including serving as an At-Large Member to the National Board of the Handbell Musicians of America. An accomplished ringer, she was a member of the acclaimed Dallas Handbell Ensemble, directed by David R. Davidson, and has participated in Distinctly Bronze (East and West) and several Advanced Seminar Choirs.
A graduate of Perkins School of Theology at SMU, Ms. Rhoades earned her Master of Sacred Music degree in choral conducting shortly after earning her undergraduate degree in music from Yale University. Her parents, both music teachers (retired), encouraged her to play the violin and trumpet in addition to singing, ringing, and dancing. Her non-musical interests include training for sprint triathlons and cycling.
Ringing challenging music, working with an excellent conductor in a "master class" situation, networking with handbell friends and colleagues. Talking about handbells, conducting, directing, recruiting, repertoire, ringing, etc., moves us forward as musicians.
There is so much talent in that room, it's incredible. Sometimes during rehearsal I look around and stand in awe at what is transpiring around me. I consider it such an honor to be a part of it.
Event Registration
The registration fee for this year's event is $360.00.  All registrants must have their own membership in Handbell Musicians of America or be the primary contact on a group membership.
In addition to working with conductor Stephanie Rhoades, your registration fee includes two meals (dinner Thursday and lunch Sunday), a Distinctly Bronze polo shirt, and a recording of the final concert. You also have the opportunity to ring with talented colleagues and network with other friendly Handbell Musicians of America members. Additional meals and polo shirts can be ordered by completing the appropriate line on the Registration Form.
Registrants are required to have their own active Handbell Musicians of America membership—either personally or as the primary contact for a church or organization.  To join Handbell Musicians of America, follow this link or contact the national office for assistance.
Ringing assignments are based on your response to the questions in the registration process about your assignment preferences.  The requirement to complete additional forms for ringing preferences has been discontinued.  All information required will be gathered during the initial registration process.
What is your DB Alumni status?
Your status and the expiration date of that status were indicated in the communication (letter or e-mail) you received after the last Distinctly Bronze event you completed. There are three categories. See details about the evaluation process here.
A
Yes, can attend one DB event within the next 24 months (4 events total) – no reapplication required.  If don't attend within that period, will be required to reapply. Follow the registration steps below.
B
Yes, can attend one DB event within the next 24 months (4 events total) – no reapplication required.  If don't attend within that period, will be required to reapply.  Expected to show improvement at next event.  Follow the registration steps below.
C
No, must reapply and may be asked to provide a video and/or evidence of significant skills building experiences such as lessons, workshops.  Specific areas in which improvement is needed will be cited. Contact event chair for instructions – [email protected]
If you don't know your status, contact the event chair at [email protected]
Complete the following items as soon as possible:
1 – Log in to your member account and complete the online event registration by following the registration link on the login welcome page. The registration fee must be paid in full at the time of registration. If you do not have your own Handbell Musicians of America membership, join here or call the national office (937-438-0085) for assistance.
2 – If your alumni status has expired, also complete the Alumni Re-Apply Form (link provided on registration confirmation page.)
If you would like to apply to attend Distinctly Bronze, please follow these steps as soon as possible:
1 – Log in to your Guild member account and register for the event on-line.  You will see the link to registration on your login welcome screen.  If you do not have your own membership in Handbell Musicians of America, you may join here or call the national office (937-438-0085) for assistance.  You must pay the full registration fee at the time of registration.  This fee will be refunded in full if you are not accepted to the event.
2 – Complete and submit the on-line First-time Attendee Application from the link provided on your registration confirmation page.
3 – Contact two references that have observed you ringing within the past year and ask them to complete the on-line First-time Attendee Recommendation. YOU ARE THE ONLY PERSON RESPONSIBLE FOR ENSURING THAT YOUR TWO RECOMMENDATIONS ARE RECEIVED. You will not be contacted if your recommendations are not received in a timely manner.
Please note that no applications will be considered until ALL OF THE ABOVE FORMS & RECOMMENDATIONS are received by the national office.
Please make note of the following important dates and deadlines:
Your payment will be processed at the time you submit your on-line registration for the event.
First-time attendees and Alumni Re-Apply applicants, you will receive a follow-up e-mail from the event chair once ALL APPLICATION MATERIALS have been received and your application has been reviewed and accepted. THIS IS YOUR CONFIRMATION. If you DO NOT receive this confirmation, it is your responsibility to follow up with the National Office to make sure your application has been received.
Returning Alumni (who received an A or B rating), your registration confirmation email is the only confirmation you will receive.
December 1 – Ringing assignments will be sent to all accepted attendees.
PLEASE NOTE – NO APPLICATIONS WILL BE CONSIDERED UNTIL ALL REQUIRED FORMS AND FULL PAYMENT ARE RECEIVED BY THE NATIONAL OFFICE.
.
Repertoire
You are responsible for purchasing and rehearsing the music. Repertoire notes regarding problem solving, corrections and other items may be sent at various times before the event.  Music may be purchased directly from publishers of from any music retailer.  Our HIC retailers include:  Heitz Handbells & Music, Jeffers Handbell Supply, and J.W. Pepper.
Heitz Handbells & Music – order online at this link.  Just enter #DBE in the Title field to pull up a complete list of the DB East repertoire.  Those purchasing from this page will receive a 15% discount which will be automatically applied at checkout.
| | | |
| --- | --- | --- |
| Carillon Fantasy | Karen Buckwalter | Broadman Press – BR457900 |
| Joy | Elizabeth Peters | AGEHR Publishing – AG35350 |
| Cathedrals | Margaret Tucker | Red River Music – RRG5006 |
| Roundelay | Judy Phillips | Red River Music – RRBL5050 |
| So Glorious and Free | Betty Radford | From the Top – FM20495HB |
| Chanson Joyeuse | Julie Stitt | Choristers Guild – CGB654 |
| Serenata de Campanas | Sandra Eithun | Beckenhorst – BEHB631A |
| Nocturne in E Minor | Cynthia Dobrinski | Hope Publishing – HP498 |
| Dizzy Fingers | Patricia Hurlbutt | From the Top – FM20498 |
| Africa | arr. Carol Lynn Mizell | Choristers Guild – CGB1158 |
| Celtic Queen | Catherine McMichael | Camelia Music – CM0016 |
| Toccata from Organ Symphony No. 1 | Vierne/arr. Sondra Tucker | Casa Publications – HB004 |
Tablet Policy
Handbell Musicians of America is committed to upholding the copyright laws of the United States and protecting the rights of our publishers, arrangers and composers.  If you wish to use a tablet computer to hold your music in place of standard paper copies on a music stand, you must contact the publisher of each piece of music to first obtain permission to convert a purchased piece of music to the format required for the tablet you are using.  Copies of the written permission received from publishers must be presented on request from the event organizer, event chair, or Handbell Musicians of America staff. Permission from a publisher for one piece does not imply permission for other songs from the same publisher.  The title of each song used in this format must be included in the written permission received. Attendee should also have legally purchased copies of all music with them for verification. Titles originally purchased in a digital format do not require permission from the publisher, however, please have a copy of your purchase receipt available.
Event Schedule
Thursday, February 27
9:00 AM – 12:00 PM                   Set-up – Volunteers welcome
12:30 PM – 2:00 PM                   Distinctly Bronze Registration
1:00 PM – 1:30 PM                     DB Associate Conductor Mentoring Session
2:00 PM – 2:30 PM                     Welcome Announcements for ALL RINGERS
2:30 PM – 5:00 PM                     Rehearsal (break 3:45-3:55pm)
5:00 PM – 6:00 PM                     Dinner provided
6:00 PM – 8:00 PM                     Rehearsal
Friday, February 28                           
8:30 AM – 9:45 AM                     Rehearsal
9:45 AM – 2:00 PM                     Treble (D5-C9) Free (lunch on your own)
10:00 AM – 12:00 PM                 Bass (C2-C5) Sectional
12:00 PM – 4:20 PM                   Bass Free (lunch on your own)
2:00 PM – 4:00 PM                     Treble Sectional
4:20 PM -7:00 PM                       Rehearsal (break 5:50-6:00pm)
7:00 PM                                       Dinner (on your own)
Saturday, February 29                      
9:00 AM – 12:00 PM                   Rehearsal (break 10:30-10:40am)
12:00 PM – 12:30 PM                 Associate Conductor Mentoring Session
12:00 PM -2:00 PM                     Lunch (on your own)
2:00 PM – 6:30 PM                     Rehearsal (breaks 3:00-3:15pm & 4:45-5:00pm)
6:30 PM                                       Dinner (on your own)
Sunday, March 1                         
9:00 AM -11:30 AM                    Rehearsal (break 10:15-10:25am)
12:00 PM – 1:00 PM                   Provided Lunch & Closing Announcements
1:00 PM – 3:00 PM                     Final Rehearsal
3:00 PM – 4:00 PM                     Final Concert Preparation (dress & free time)
4:00 PM                                       Concert
approx. 5:30 pm                       All Hands Teardown (pack and load handbells and other equipment)
Lodging
No special lodging arrangements have been made for this event.  There are several hotels and bed and breakfast establishments available within easy walking distance to the New Bern Convention Center.  Follow this link for a list of options.
Cancellation Policy
This policy applies to refunds for ANY reason, including medical, family and business. This policy applies even if we fill your slot with another ringer. If you desire, you can receive a copy of the Distinctly Bronze East 2020 recording at no charge if you cancel.
Payment in full is required to enter your registration and is refundable only when:
A first-time applicant is not accepted
An individual on the wait list is not offered a slot, or declines a slot offered after 1/20/2020.
Fee refunds minus a $100 cancellation penalty will be made for written or email cancellations received by 12/31/2019. Cancellations received by 1/20/2020 will be refunded 50% of registration fee less cancellation penalty; after 1/20/2020 registration is not refundable.  The date of cancellation will be the date the cancellation is RECEIVED in the national office by the event registrar.
Event Scholarships
William H. Griffin Scholarship Fund offers one scholarship to the 2020 East event. The scholarship provides full registration and up to $700 for travel & lodging expenses. The application is available here and must be submitted by August 1, 2019. Both alumni and first timers may apply. First time attendees must be accepted through the procedure here before being eligible for the scholarship.
Evaluation Process
Distinctly Bronze is unique in the skill and commitment of our handbell musicians. Every year, attendee event comments urge us to preserve and improve the level of ringing at the event. To this end, all DB attendees are evaluated each year and placed in one of three categories.
For a complete description of the evaluation process and criteria that must be met for each ringer category, follow this link.