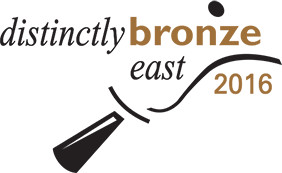 October 6-9, 2016
New Bern Riverfront Convention Center, New Bern, North Carolina
Dr. William Payn, Conductor
NOTE: Registration is now FULL.  
However, we are accepting names for a waiting list.  This event often has cancellations leaving open spots that will be filled from the waiting list.  Add your name today by completing the registration steps listed below. No payment is required to be included on the waiting list.  Payment will be collected when you are offered a spot in the event.
Click on one of the options below to jump to that section of the page:
General Information | Registration | Scholarships | Repertoire
Schedule | Evaluation | Lodging | Attendee Information
GENERAL INFORMATION
What is Distinctly Bronze?
This massed ringing event for advanced handbell musicians offers the unique opportunity to perform on the largest sets of handbells available under the direction of Dr. William Payn. Rehearsals lead up to the Sunday afternoon concert, which is open to the public ($5.00 admission at the door.)
Participants are expected to rehearse and learn the music before arriving at the event – our time together is for making music, not learning notes!
Where do we meet?
We are returning once again to the New Bern Riverfront Convention Center which is located on the waterfront of the Neuse and Trent Rivers, adjacent to the downtown and historic district. New Bern is a small and friendly town that is the second oldest city in North Carolina, as well as the home of the first capital of the state. The history of the area contrasts with the modern New Bern Riverfront Convention Center which features a spacious ballroom for our rehearsals, meal, reception and concert. There are restaurants and shops within a four-block walk.
Who should attend?
Successful Distinctly Bronze (DB) participants have the following traits:
Committed to learning all of the music on their own. Learning means going beyond the notes – you know where the musical line is and can see/hear the overall picture.
Learns quickly
Understands that the overall musical result is more important than the individual
Has experience with music approaching the difficulty of the DB repertoire (difficulty levels ranging from AGEHR level 4-6)
Is willing to adapt to a different philosophy of handbell assignments and sharing
Can play a variety of positions, and is flexible about position assignment
Has the stamina, energy and attention for lengthy rehearsals during the 4 1/2 days of the event
Has good rehearsal etiquette – is prompt & cheerful, and attends ALL rehearsals
Has self-awareness to realize when he/she "is the problem" (as in playing wrong rhythm, wrong bell, wrong dynamic, not following the director), and, without prompting or comment from anyone, either remedies the problem or sits out that passage
Understands that ringing is a collaborative effort. All the notes must be rung musically. This may require sharing handbells with neighbors or giving one or more handbells to a different musician for an entire piece.
Is open to constructive comments
Doesn't crumble under performance pressure
How do I attend?
All first time registrants must be accepted to attend. The acceptance process includes submission of an attendee information sheet, as well as two recommendations from ringing or directing colleagues. Distinctly Bronze is an event for experienced, capable handbell musicians who can prepare on their own, are seeking to increase their musicianship, perhaps ring repertoire that is not an option at home, and will give full attention and effort to the closing concert.
There are a limited number of positions available at Distinctly Bronze and they fill quickly, so register early!
For complete details on the registration process for first-time and returning attendees, see the section on Registration.
REGISTRATION
NOTE: Registration opens Tuesday, April 5, at 11:00 AM EDT
The registration fee for this year's event is $345.00.  All registrants must have their own membership in Handbell Musicians of America or be the primary contact on a group membership.
In addition to working with conductor Bill Payn, your registration fee includes two meals (dinner Thursday and lunch Sunday), a Distinctly Bronze polo shirt, and a CD recording of the final concert. You also have the opportunity to ring with talented colleagues and network with other friendly Handbell Musicians of America members. Additional meals, polo shirts or CDs can be ordered by completing the appropriate line on the Registration Form.
Registrants are required to have their own active Handbell Musicians of America membership—either personally or as the primary contact for a church or organization.  To join Handbell Musicians of America, follow this link or contact the national office for assistance.
Ringing assignments are based on your response to the questions in the registration process about your assignment preferences.  The requirement to complete additional forms for ringing preferences has been discontinued.  All information required will now be gathered during the initial registration process.
Please follow these links to find the details you need for registration:
Returning Alumni | First Time Attendee | Time-Line | Cancellation Policy
Alumni
What is your DB Alumni status?
Your status and the expiration date of that status were indicated in the communication (letter or e-mail) you received after the last Distinctly Bronze event you completed. There are three categories.  Visit the section on Evaluation for a complete description of each category and the process used.
A
Yes, can attend one DB event within the next 24 months (4 events total) – no reapplication required.  If don't attend within that period, will be required to reapply. Follow the registration steps below.
B
Yes, can attend one DB event within the next 24 months (4 events total) – no reapplication required.  If don't attend within that period, will be required to reapply.  Expected to show improvement at next event.  Follow the registration steps below.
C
No, must reapply and may be asked to provide a video and/or evidence of significant skills building experiences such as lessons, workshops.  Specific areas in which improvement is needed will be cited. Contact event chair for instructions – [email protected]
If you don't know your status, contact the event chair at [email protected]
Complete the following items as soon as possible:
1 – Log in to your member account and complete the online event registration by following the registration link on the login welcome page. The registration fee must be paid in full at the time of registration. If you do not have your own Handbell Musicians of America membership, join here or call the national office (937-438-0085) for assistance.
2 – If your alumni status has expired, also complete the Alumni Re-Apply Form (link provided on registration confirmation page.)
First-time Attendees
If you would like to apply to attend Distinctly Bronze, please follow these steps as soon as possible:
1 – Log in to your Guild member account and register for the event on-line.  You will see the link to registration on your login welcome screen.  If you do not have your own membership in Handbell Musicians of America, you may join here or call the national office (937-438-0085) for assistance.  You must pay the full registration fee at the time of registration.  This fee will be refunded in full if you are not accepted to the event.
2 – Complete and submit the on-line First-time Attendee Application from the link provided on your registration confirmation page.
3 – Contact two references that have observed you ringing within the past year and ask them to complete the on-line First-time Attendee Recommendation (link provided on registration confirmation page). YOU ARE THE ONLY PERSON RESPONSIBLE FOR ENSURING THAT YOUR TWO RECOMMENDATIONS ARE RECEIVED. You will not be contacted if your recommendations are not received in a timely manner.
Please note that no applications will be considered until ALL OF THE ABOVE FORMS & RECOMMENDATIONS are received by the national office.
Time-Line & Deadlines
Please make note of the following important dates and deadlines:
Your payment will be processed at the time you submit your on-line registration for the event.
First-time attendees and Alumni Re-Apply applicants, you will receive a follow-up e-mail from the event chair once ALL APPLICATION MATERIALS have been received and your application has been reviewed and accepted. THIS IS YOUR CONFIRMATION. If you DO NOT receive this confirmation, it is your responsibility to follow up with the National Office to make sure your application has been received.
Returning Alumni (who received an A or B rating), your registration confirmation email is the only confirmation you will receive.
June 30 – Ringing assignments will be sent to all accepted attendees.
PLEASE NOTE – NO APPLICATIONS WILL BE CONSIDERED UNTIL ALL REQUIRED FORMS AND FULL PAYMENT ARE RECEIVED BY THE NATIONAL OFFICE.
CANCELLATION POLICY AND REFUNDS
This policy applies to refunds for ANY reason, including medical, family and business. This policy applies even if we fill your slot with another ringer. If you desire, you can receive a copy of the DBE016 recording at no charge if you cancel.
Full refunds are available only under the following circumstances:
A first-time applicant is not accepted
An individual on the wait list is not offered a slot, or declines a slot offered after 9/1/2016
Fee refunds minus a $100 administrative fee will be made for written or email cancellations received by 7/31/2016. Cancellations received by 9/1/2016 will be refunded 50% of registration fee less administrative fee; after 9/1/2016 registration is not refundable.  The date of cancellation will be the date the cancellation is RECEIVED in the national office by the event registrar, Vickie Iverson.
SCHOLARSHIP
William H. Griffin Scholarship Fund offers one scholarship to the 2016 East event. The scholarship provides full registration and up to $700 for travel & lodging expenses. The application is available here and must be submitted by May 15, 2016. Both alumni and first timers may apply. First time attendees must be accepted through the procedure here before being eligible for the scholarship.
REPERTOIRE
You are responsible for purchasing and rehearsing the music. Repertoire notes regarding problem solving, corrections and other items may be sent at various times before the event.  Music may be purchased directly from publishers or from any music retailer.  Our HIC retailers include: Bell Buggy Express, Heitz Handbells & Music, Jeffers Handbell Supply, J.W. Pepper, and West Coast Handbell Supply.
The following are offering Distinctly Bronze Music Packets:
Heitz Handbells & Music – http://www.heitzhandbells.com/ – type #Distinctly in the title area of the Music Selector page.  All DB titles are 15%.  The discount will be applied at checkout.
Title
Composer
Publisher/
Cat No.
How to order
The Glad Sound Blues
Michael Mazzatenta
From the Top Music 20383
Available
Carillon
H. Dean Wagner
AGAPE
1846
Available
Legends
William A. Payn
Beckenhorst Press HB501
Available
Out of the Silent Planet
Alex Guebert
AGEHR
AG57023
Available
Transistions
William A. Payn
AGEHR
AG57019
Available
Commemoration
Andrew Duncan
Ring-Press
www.Ring-Press.com use code "DBE2016" for single copy
Downton Abbey
John Luhn/
William Payn
AGAPE
2747
Available
Thriller
Rod Temperton/ Nicholas Hanson
From the Top
20542
Available
Holiday for Strings
David Rose/ Michael J. Glasgow
Above The Line
Purchase Single Copy Here
Jamaican Rumba
Arthur Benjamin/ Carol Lynn Mizell
Choristers Guild CGB589
Available
Toccata (from Suite Gothique)
Léon Boëlmann/ Matthew Comption
Unpublished
Purchase at this link
Veni Veni, Emmanuel
arr. Fred Gramann
Choristers Guild CGB889
Available
SCHEDULE
Wednesday, October 5
If you arrive at The Resort early and are available to assist with set-up, please come by the event ballroom.
| | |
| --- | --- |
| Thursday, October 6 |   |
| 9:00 AM – 12:00 PM | Finish load-in and set-up |
| 10:00 AM – 2:00 PM | Distinctly Bronze Registration (lunch on your own) |
| 2:00 PM – 2:30 PM | Welcome Announcements for ALL RINGERS |
| 2:30 PM – 5:00 PM | Rehearsal (break 3:45-3:55pm) |
| 5:00 PM – 6:00 PM | Dinner provided |
| 6:00 PM – 8:00 PM | Rehearsal |
|   |   |
| Friday, October 7 |   |
| 8:30 AM – 9:45 AM | Rehearsal |
| 9:45 AM – 2:00 PM | Treble (D5-C9) Free (lunch on your own) |
| 10:00 AM – 12:00 PM | Bass (C2-C5) Sectional |
| 12:00 PM – 4:20 PM | Bass Free (lunch on your own) |
| 2:00 PM – 4:00 PM | Treble Sectional |
| 4:20 PM -7:00 PM | Rehearsal (break 5:50-6:00pm) |
| 7:00 PM | Dinner (on your own) |
| | |
| Saturday, October 8 |   |
| 9:00 AM – 12:00 PM | Rehearsal (break 10:30-10:40am) |
| 12:00 PM -1:30 PM | Lunch (on your own) |
| 1:30 PM – 6:00 PM | Rehearsal (breaks 3:00-3:15pm & 4:45-5:00pm) |
| 6:00 PM | Dinner (on your own) |
| | |
| Sunday, October 9 |   |
| 9:00 AM -11:30 AM | Rehearsal (break 10:15-10:25am) |
| 11:30 AM – 12:00 PM | Hotel Checkout |
| 12:00 PM – 1:00 PM | Provided Lunch & Closing Announcements |
| 1:00 PM – 3:00 PM | Final Rehearsal |
| 3:00 PM – 4:00 PM | Final Concert Preparation (dress & free time) |
| 4:00 PM | Concert |
| approx. 5:30 pm | All Hands Teardown (pack and load handbells and other equipment) |
LODGING
There will be no official hotel for Distinctly Bronze East this year.  However, there are several hotel and bed and breakfast options in the area.  A complete list of lodging options can be found at the Visit New Bern website.
EVALUATION PROCESS
Distinctly Bronze is unique in the skill and commitment of our handbell musicians. Every year, attendee event comments urge us to preserve and improve the level of ringing at the event. To this end, all DB attendees are evaluated each year and placed in one of three categories.
For a complete description of the evaluation process and criteria that must be met for each ringer category, follow this link.
ATTENDEE INFORMATION
Ringing Positions and Floor Layout
Ringing positions and floor layout will be distributed via the Distinctly Bronze East 2016 Google Group.  All accepted attendees will receive an invitation to join this e-mail group at the EMAIL ADDRESS LISTED ON YOUR REGISTRATION.
Notes & Problem Solvers for Ringers
Various notes and problem solvers for the ringers will be distributed to the Distinctly Bronze East Google Group as they are available. It is important that ALL ringers participate in the solutions presented.
Silent Auction
Due to the success of the silent auction for the past several years, we will again hold a silent auction during Distinctly Bronze. Attendees who purchase item from the silent auction will have the option to choose where their contributions are targeted.  Think about a unique item that you might like to have yourself – bell-related or not – and bring it along to contribute to the auction. Bidding will be held between Thursday evening and Saturday evening. Those who are the successful high bidders on any item can pay for the items by check, cash, Visa or MasterCard. This is always a fun activity with occasionally some spirited bidding wars – so get involved.
Door Prizes
We will also have drawings again before rehearsals for a limited number of door prizes so if you have any trinkets, CD's, bags of candy, etc. (again, something you would like to have yourself, but of lesser value than the silent auction items) to donate to the door prizes, please bring them along. All items can be brought in on Thursday morning when you check in at the convention center.
What to Bring
Original copies of all the repertoire
Black, split-back notebook for the music – please PRE-PUNCH your music
Mallets appropriate for your assigned position
Gloves for rehearsing and BLACK GLOVES for the concert on Sunday
Black skirt or slacks for the concert – your DB Easst 2016 Polo Shirt will complete your concert dress
Polishing cloth to keep your bells clean
Music stand or riser if you prefer to use one – floor stands will be provided for the low bass tables (below C4)
Band-Aids or moleskin if you will need that with multiple hours and days of ringing
Items for the Silent Auction and door prizes
Return address labels for various auction forms
Checkbook, credit card or cash to pay for any Silent Auction items you win!
C#7′s if you were asked to bring duplicates
Floor stands if you offered to bring them
Miscellaneous
The dress code for rehearsals is casual and comfortable. Several layers are always a good idea so you have some options. Comfortable shoes are essential for long rehearsals. Rain is always a possibility!
If you have attended DB in the past, please wear the polo shirt from the first DB you attended on Saturday, 10/8. If you are a first time attendee at this event, please wear your favorite handbell shirt on Saturday.
If you're arriving on Wednesday before 5:00 PM, we can use your assistance with the event set-up. Please stop by the convention center to help. Think of it as a warm-up for all the rehearsals to come!
Onsite registration will begin on Thursday, October 6, at 10:00 AM at the convention center and will continue until 2:00 PM. Donations for the Silent Auction and door prizes may be brought to the ballroom at this time.
Welcome and opening announcements will begin at 2:00 pm on Thursday. You should be in your seat at your ringing position then. The first rehearsal will begin as soon as announcements and welcomes are complete.
If you are arriving on Thursday close to the event starting time, please come directly to the convention center with your luggage. You will have an opportunity to check into the hotel at 5:00 pm. Please do not delay coming to the opening in order to check into your room.
Transportation
Probably not.  There are numerous lodging and dining options within easy walking distance to the convention center.
Meals
Your registration includes Thursday dinner and Sunday lunch.  There are many dining options within walking distance of the convention center for other meals.