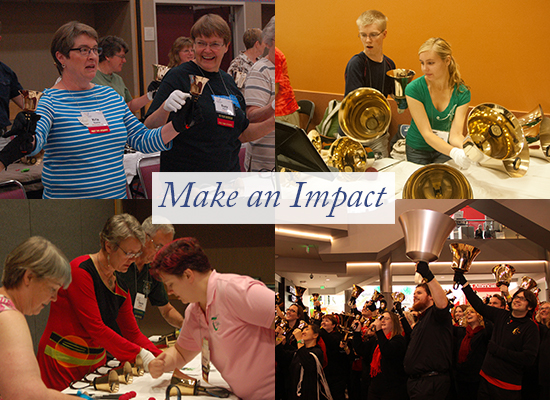 Through your continued generous contributions, you impact the lives of handbell musicians all year with learning and performance events, publications, online resources and more.
Your Contributions at Work
You are the reason Handbell Musicians of America exists. You are at the heart of our mission to further the art of handbell and handchime ringing through education, community and communication. Each year, we work to improve and enhance the benefits and resources available to you as a member of HMA. To continue that support and the development of new tools, your contributions to our annual campaign are essential.
Consider how your gifts have made a difference by helping to fund the following projects:
The College Ring-In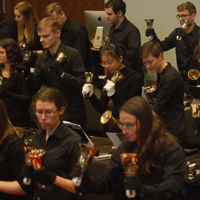 This event for college musicians and those recently graduated is designed to encourage this group to continue their participation in the handbell community beyond their college years. Registration fees are kept low to fit the student budget and are not enough to cover the basic expenses of the event. Additional funding comes from your charitable gifts and sponsorships from the community choirs in our organization
National Seminar Live Streaming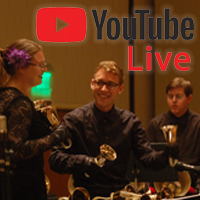 For the third year, we offered live-streaming of all the National Seminar concerts. We had over 6,000 combined views over the course of the event—more than triple the previous year.  As this audience grows, we have the potential to bring the music of handbells to thousands each year.  We are fortunate to have the services of Derek Nance and Bob Avant to make these happen and, through your contributions, we can cover their expenses to be at the event and produce excellent live programming.
Handbell Musician Certification Tracking Software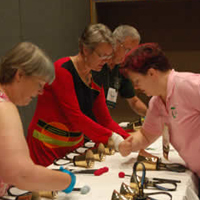 This past year, we began a partnership with the Northern Kentucky University College of Informatics to develop custom IT projects for HMA. The first project was the creation of a new interface for tracking student progress in our Handbell Musician Certification program. Through this interface, faculty will enter course test results and students can log in to see their progress and track remaining requirements to complete each Certification level. While our agreement with NKU gives us a deeply discounted rate for this work, it is a new expense in the budget that your gifts help make possible.
---
How to Help
Membership dues cover just our basic operational expenses. In order to continue offering robust resources, educational events, Overtones, and other member benefits; or to develop new services and tools for all handbell musicians, additional contributions are needed. While gifts of any amount are welcomed, consider how donations to the general fund can support our mission:
$50 helps with the creation of a new resource or activity in Member Extras
$100 funds Tips & Tools in one issue of Overtones
$150 supports the development of a new online education resource
$180 provides registration for two college students to attend the College Ring-In
$500 will help us develop our new "event-in-a-box" library allowing members to present events in their own community
$1500 supports faculty honorarium for a Handbell Musician Certification workshop.
Thank you for your continued support and commitment to uniting people through the musical art of handbell and handchime ringing.