Previous Posts By guest blogger, PL Grove The three showcase concerts at the 18th International Handbell Symposium in Cairns had elegance, pizzazz, costumes, fun, and a few other surprises. The first concert was held on Tuesday afternoon, soon after the start of the...

Cultural Excursion
A big part of every International Handbell Symposium is the opportunity to learn more about the culture of the host country. For Australia, that meant a visit to Rainforestation Nature Park located in the Kuranda Rain Forest just a short drive from Cairns.
Wednesday afternoon, all the Symposium participants boarded buses for the drive to the park.  Our visit started with a performance of Pamagirri Aboriginal dance which demonstrated traditional dance and music featuring digeridoo and percussion.  Some of the youth at the event were invited on stage to join in the final "Shaky Leg" dance.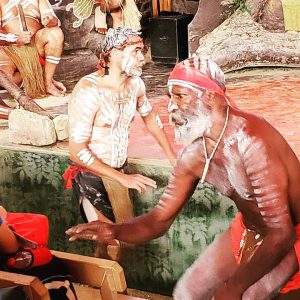 After this, we were divided into 3 smaller groups which rotated through other experiences at the park:
Army Duck Tours – a tour of the plant life through the rainforest including land and water pathways from a World War II era amphibious Army DUKW.
Dreamtime Walk – instruction and demonstration of the digeridoo, spear throwing and boomerang.
Koala and Wildlife Park – a zoo-like atmosphere where we could view Australian animals including kangaroo, wallaby, crocodiles, wombats, dingos, Tasmanian devil, a variety of birds and reptiles, and, of course, koalas.
Our evening ended with a wonderful dinner buffet and bush dancing with a live band.
A nice break from the handbell activities of the event to have some fun and get a little taste of Australian and Aboriginal culture.