Previous Posts By guest blogger, PL Grove The three showcase concerts at the 18th International Handbell Symposium in Cairns had elegance, pizzazz, costumes, fun, and a few other surprises. The first concert was held on Tuesday afternoon, soon after the start of the...

It's Workshop Day at IHS!
From guest blogger, PL Grove
It's the first of two workshop days at the International Handbell Symposium, and while that means a little bit more chaos (as bells and foam gets schlepped around), it also means more fun!
The day started out with an early morning interfaith service, followed by the standard rehearsals. But the first workshop was held after the morning break, and I had about 25 multi-generational ringers in my ensemble ringing class. Needless to say some moved around the table faster than others, but all saw the need for ensemble ringing skills, and several thanked me for the class at lunch time. I was only sorry I wasn't able to attend the historical class on how to wear a Bibik, taught by Singapore's president Lyn Foon Yap (especially since today is Singapore's independence day).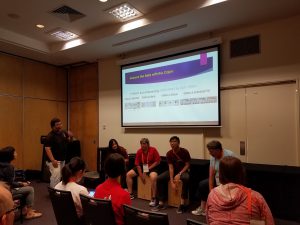 Brian Seemann had a packed house of about 30 in his treble bell class. I was able to attend a portion of Damien Lim's cajon class, where all the participants got a chance to play Michael Glasgow's arrangement of Katy Perry's Firework. I took a picture of Leslie Lewis hard at work!
More classes tomorrow and a wonderful third showcase concert tonight including the chimes…can't wait!