Join us for our next Member Chat – Details Below!
| | |
| --- | --- |
| | Have you ever wished you could talk directly to a handbell "celebrity" and ask them questions? Every other month, we host a one-hour live chat with a personality from within our talented ranks. Everyone will have an opportunity to submit questions in advance. Many of you will be able to tune in live and participate. And, all members will be able to access the video on the Handbell Musicians of America website after it airs live. |
Be sure to also visit our archive of past MemberChats and MemberNotes.
Next Chat
I Write the Songs
with Jason Krug
September 29, 2018 • 3 p.m. Eastern
Do you wonder what all goes in to the compositional process? Ever wanted to pick the brain of a composer to figure out why they write what they do, or why they write at all? Here's your chance to get all your questions answered during this Member Chat with Jason Krug. Jason will discuss some of the thoughts and considerations that go into his compositions, attempt to explain why he writes the way he does, and field questions from those in attendance.
---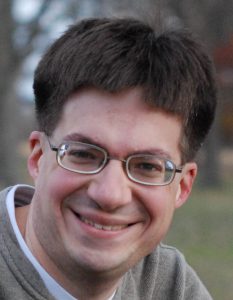 Jason W. Krug is a native of Indianapolis, Indiana.  He holds a degree in music from the Massachusetts Institute of Technology. 
Jason is a full-time freelance composer, arranger, clinician, and teacher.  Since his first publication in 2006, he's had over 300 compositions and arrangements accepted for handbells, piano, strings, organ, and choir.  His works have been featured at numerous festivals and workshops in the United States and beyond. 
In his spare time, Jason enjoys writing fiction, and has spent several years working on a young adult fantasy series, The Sadonian Chronicles.  He also frequently participates in the National Novel Writing Month (NaNoWriMo) event in November.
Jason continues to live in Indianapolis with his wife, Ellen, his sons, Daniel and Malcolm, and his feline creative consultant, Susan.  You can find him on the web at jasonwkrug.com.
---
Registration for the next MemberChat is now open. The first 35 members to sign up will be sent an access code for the broadcast and instructions for logging on. Although the live broadcast is limited to 35 participants, we will maintain a waiting list and all members are welcome to send their questions for Jason to membership@handbellmusicians.org with the subject line "Member-Chat Question." He will answer as many as he can.
Note: You must log in to your member account in order for the event to show as FREE.