Linda Minnotte – Candidate for At-Large Director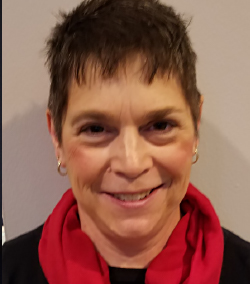 Linda Minnotte lives in Pittsburgh, Pennsylvania, where she began ringing in high school. In 1985, she founded and directed the first adult handbell team, Chapel Bells, at Mt. Lebanon UMC. A work situation forced her to stop directing but she was able to embrace ringing again. She has been privileged to attend Distinctly Bronze since 2005, the 2008 International Symposium, numerous National Seminars, Pinnacle, Area 2 events, Master Classes with William Payn and David Harris, and a member of several All Star Choirs. She is a founding member and board president of Three Rivers Ringers. Linda also rings in two handbell ensembles at Mt. Lebanon UMC where she sings in the choir and is lay leader.
She worked for 25 years as a music and recreation therapist(retired) and is the owner of LDM Embroidery (HIC member). Her business currently provides the custom embroidery for Distinctly Bronze and Handbell Musicians of America. Currently, she is employed full time in a family-owned hardware store where she has seven jobs.
She has been married to Rick for 40 years and has one daughter, Kim, who lives with her husband in Norman, Oklahoma, where she teaches 1st grade.
She is excited and honored to be a candidate for a member-at-large position on the Handbell Musicians of America board of directors.
What is your vision for Handbell Musicians of America?
My focus for the next board would be threefold: the recruitment and retention of new members, specifically younger ringers(what a joy to see middle and high school ringers participating in The Big Ring), the development of new revenue streams for the organization, a process I helped lead with Three Rivers Ringers and lastly, continuing our efforts to provide educational resources for new directors. I feel very strongly that events such as Distinctly Teen and the College Ring In must continue and also be offered at the Area level. The recruitment of younger members is something that must be pursued. Adding new members will also aid our financial situation. As to helping new directors, the launch of the new website should make it easier for information to be made available to directors. The organization should do everything possible to foster and mentor new and existing directors.
Additionally, what expertise and experience will you bring to the Handbell Musicians of America board of directors?
As a member of Handbell Musicians of America's board of directors, I would bring years of ringing and conducting experience and an ability to listen. Although I have not held an Area office, I believe that my real world experience would be beneficial to the board. I own a small business and serve on the board of a non-profit which will be helpful in making financial decisions. I have attended numerous national events where I have met incredible handbell musicians and developed friendships that have proven invaluable to me as a ringer. Those interactions have given me some insight into the thoughts/concerns that HMA members have with the organization. As a founding member of Three Rivers Ringers, I have helped to develop the ensemble to where it is today: performing with the Pittsburgh Symphony Orchestra, being able to purchase our own 6-octave set of Schulmerich bells and presenting the opening concert at the 2016 National Seminar, all in 6 years.
Working for twenty-five years with criminally committed patients in a state mental hospital taught me invaluable lessons and how to interact with others effectively in a stressful situation. As lay leader for my church, I interact with numerous committees and boards. I believe my ability to work easily with others and to listen would be of benefit to the board.