Kyle Webber – Candidate for At-Large Director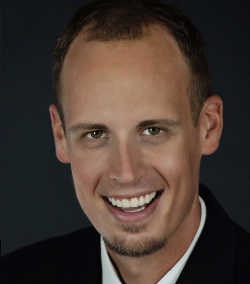 Kyle Webber currently serves as director of music ministries and organist at First United Methodist Church in Gainesville, Florida. There he leads a music ministry consisting of an adult handbell choir, vocal choir, and instrumental ensemble. Prior to coming to Gainesville, Kyle served for nine years as music director and organist at First United Methodist Church in Chelsea, Michigan. There he built a music ministry consisting of five handbell choirs, vocal choir, kids choir, praise band, instrumental ensemble, and a concert series. In Chelsea, Kyle initiated and organized an annual concert tour for the advanced youth handbell choir, The Accidentals. This ensemble traveled to Florida, Toronto (Canada), and Charleston, South Carolina. Kyle has been involved in handbells for over 15 years and most recently served on the Area 5 board as treasurer/registrar. He has been a clinician at many Area 5 festivals/workshops, was instrumental in spearheading the Area 5 Associate Conductor program and transitioned the area to online registration. Kyle co-founded the Eaton Rapids Handbell Festival (Michigan) with Brenda Austin in 2011, where he conducted and served as clinician. Kyle is married and has three children.
What is your vision for Handbell Musicians of America?
Bringing our art form to the public forefront, partnering with other art forms and striving to be innovative in our musicianship will continue to challenge our membership to grow. In order to reach our goals, it will require we adjust our finances and policies to reflect our priorities. We must create highly effective marketing strategies and improve our communication so that we reach all demographics. I see an organization that continues to dream big dreams and imagines what is possible for this art form. I envision an organization that continues its commitment to educate and reach out to current members, while finding ways to attract new members. Listening is vital. It is important to continually improve the ways members and future members can provide quality input. Finally, fostering new composers, young directors and new ringers is paramount to ensure a healthy and dynamic organization of the future – one that is attractive to youth and young adults.
Additionally, what expertise and experience will you bring to the Handbell Musicians of America board of directors?
I am a visionary who sees possibility, takes initiative, and believes in the strength of collaboration. I am extremely organized, an experienced recruiter and am highly attentive to detail while pursuing big goals. I am a passionate musician who has experienced the realities of being a day-to-day church director and dedicated Area board member. I relate well to others and function best in a team environment. I bring over ten years experience growing successful handbell programs and meeting the needs of children, youth, and adults. Additionally, I have experience teaching and conducting at local and area events. Building strong community relationships with other organizations and professionals is the hallmark of my work style. Casting a vision, aspiring to achieve excellence in all things and my desire to work together as a team to achieve the extraordinary are the strongest qualities I will bring to this position.