Jill Fedon – Candidate for President-Elect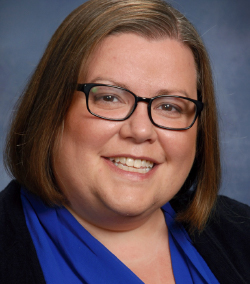 Jill Fedon began ringing handbells in 1985 in Hackettstown, New Jersey. She received her B.S. in Music Education from Indiana University of Pennsylvania and her Master of Church Music from Concordia University Wisconsin. Jill is director of handbells at Trinity United Methodist Church in Hackettstown, New Jersey, the very church where she first learned to ring handbells. She conducts four handbell choirs, two adult and two youth. Recently, her high school choir the Trinity Ringers, performed at Carnegie Hall and Walt Disney World. Jill teaches Early Childhood Music and Lower School Computers at Gill St. Bernard's School in Gladstone, New Jersey, where she is also the Related Arts Team Leader. Jill is currently chair of Area 2 and is a published handbell composer and arranger.  She lives in northwest New Jersey with her husband, Ryan and seven year old son, Ben who loves ringing handchimes and can't wait to join mom's handbell choir next year.
What is your vision for Handbell Musicians of America?
My vision for Handbell Musicians of America involves continuing to build on the recent positive exposure and growth of the Guild to increase membership and communicate the joy and benefits membership has to offer. For many handbell musicians, our investment in the Guild is more than just ringing handbells. The handbell community is a remarkably welcoming, accepting and inclusive family and I believe that our sense of community is what makes us unique as musicians, as well as continues to drive and transform the art of ringing handbells.
Handbell Musicians of America has made great strides in working to foster life-long ringers from an early age as well as bridge the gap between youth and adult ringers.  We must continue to engage our young adults in meaningful ringing experiences to ensure the future of Handbell Musicians of America.  One of our greatest assets is our community. Finding new and creative ways to communicate the wonderful community of learners and musicians we are will help to invite and maintain life-long members of Handbell Musicians of America.
Additionally, what expertise and experience will you bring to the Handbell Musicians of America board of directors?
My experience as a member and chair of the Area 2 Board, Related Arts Team Leader, and member of various church and school committees has helped to hone my leadership skills of visioning, organizing, listening, communicating, and working with a diverse group of individuals towards a common goal.
I have been a handbell musician for over 30 years, more than 16 of those years as a director of both youth and adult handbell choirs. I have also been an educator for the past 20 years.