National Board Chats
Beginning in 2019, we are offering quarterly webinars giving members the opportunity to connect directly with national board members.
Click on the dates below to register for a webinar. Ask questions, discuss goals, and offer your ideas and suggestions related to the direction and future of Handbell Musicians of America.
Saturday, January 12
Watch Archived Video
(Members only)
Saturday, March 23
Watch Archived Video
(Members Only)
Saturday, July 20
4:00 PM Eastern
Live from National Seminar
Saturday, October 26
11:00 AM Eastern
Live from National Board Meeting
Send your question or comment in advance to board@handbellmusicians.org and it will be addressed during the next chat. All sessions will be recorded and available to members through our online Member Center
---
The Spring 2019 Issue of
Overtones is now online
---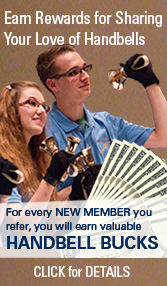 ---

Visit our Member Extras section of our members only site, where you will find fun activities, articles, tips, and resources.  All members are welcome to enjoy these benefits, but they were designed with ringers in mind.